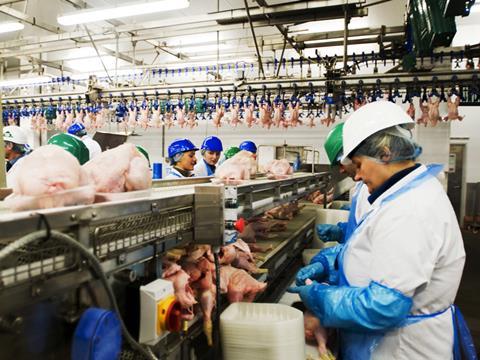 2 Sisters Food Group has pledged to publish the results of every audit undertaken at its factories in a bid to regain trust in the scandal-hit poultry giant.
The move would be a first for a UK meat processor and a "bold step" towards working with regulators, standard owners and customers to "develop a system for all to use", the company said today (19 December).
It comes as The Guardian and ITV claimed this evening that Tesco auditors had unearthed a series of "major" process issues at a 2 Sisters Food Group factory in Coupar Angus, Scotland, on the same weekend as the West Bromwich site was closed over food safety breach concerns.
However, Tesco stressed its inspections had not identified any regulatory breaches at 2 Sisters' sites. "Our inspection highlighted a number of inadequate processes at [the Coupar Angus] site, including labelling, segregation, traceability and recording. We insisted these were addressed immediately to prevent any food safety issues," said a spokeswoman.
"We have shared our findings with the Food Standards Agency and Food Standards Scotland and welcome their investigations. We continue to monitor practices closely across 2 Sisters poultry sites," she added.
Meanwhile, a spokesman for 2 Sisters said the latest Guardian/ITV report used old "news to highlight issues which were resolved with our customer two months ago", adding "there is and never was any risk to food safety at Coupar Angus".
Audit results
The first set of results published by 2 Sisters today revealed that non-conformances were found during almost two thirds (96) of the 150 audits conducted at its plants between July and the end of November 2017.
However, none of these were related to food safety issues. Instead, auditors flagged up 62 non-conformances where they felt a system or process was inadequate, and 475 where they felt a system or process could be improved.
"2 Sisters produces safe food every day," the company said in a statement. "We always seek to operate in a way that fully meets the expectations of our customers and regulators whilst continuously improving our operation. These audits and inspections, the insight they give us and the remedial action taken is an important part in the continuous improvement cycle."
From January, 2 Sisters will regularly publish the results of all of its audits including details on outcomes and instances of non-conformity. The supplier also confirmed that all of its sites are now in the BRC's unannounced audit programmes.
Crisis
2 Sisters has faced a turbulent four months since the Guardian and ITV first uncovered a litany of alleged food safety breaches at a 2 Sisters cutting plant in West Bromwich on 28 September.
The Guardian/ITV exposé claimed workers would regularly pick product off the floor and place it back on production lines, while also alleging staff had altered dates on labels.
It set off a chain of events which saw the poultry giant's retail customers all halt deliveries from the site, while Singh, the FSA, BRC Global Standards, Red Tractor and the British Poultry Council were all hauled in front of the Commons Efra Committee for an often chastening grilling over how it ran its factories, and how they were regulated and audited.
Singh apologised to the Committee and his customers, conceding it was "time to change and I have to change", before insisting 2 Sisters poultry was safe to eat.
However, much of the Efra Committee's ire was targeted at the FSA, trade and accreditation bodies. Its report published last month said that the checks and balances supposed to hold UK food companies to account and keep consumers safe were patchy, full of loopholes and easy to exploit.
"For an industry which takes pride in the quality of its produce, we were surprised to hear of the apparently patchwork nature of the accreditation process," Efra wrote.
"It appears relatively simple for someone to game the system and hide infractions – by opting out of unannounced visits by the accreditors, for example – and the lack of joined up intelligence and knowledge-sharing seemingly presents many gaps into which misdemeanours can fall."
In committing to publishing its audit data, 2 Sisters noted Efra's concerns at the lack of "joined up intelligence and knowledge sharing across the food industry amongst manufacturers, regulators and retailers".
It added: "We also look forward to working with the FSA, BRC Global Standards other stakeholders to see how we can continue to deliver the transparency that is so important to customer confidence."