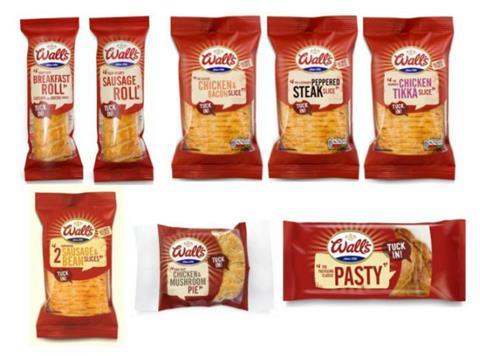 Almost 60 pastry SKUs from brands and retailers including Wall's, Tesco and Nisa have been pulled from chillers by manufacturer Addo Food Group over fears they may contain fragments of metal.
Batches of pies, sausage rolls, pasties and slices have been recalled as a precautionary measure because of concerns about contamination by small pieces of metal wire.
Addo initiated the recall "after routine procedures identified part-processed pastry contained metal" said the supplier. "Investigations identified a faulty drive belt, through abnormal wear, caused the pastry to become contaminated. Some of the metal may have been too small to be picked up by metal detectors."
No finished products had been found to contain metal and no shoppers had complained, the company added.
Of the 59 affected items, 22 of them are Tesco own label, making the grocer hardest hit by the withdrawal. They include five products from the mult's new Eastman Deli Foods value tertiary brand, including Steak & Kidney Pie (150g) and Chicken & Mushroom Slice (150g).
Addo's own Wall's brand has also been severely affected, with 19 recalled lines including Breakfast Roll (150g), Ham & Cheese Slice (180g) and Pasty (140g & 240g). Meanwhile, Wall's sister brand Millers has had a quintet of products removed from sale.
The Nisa Heritage brand has had seven pies, pasties and rolls pulled, while Aldi has had six of its Crestwood tertiary brand SKUs taken off shelf.
A Food Standards Agency alert contains full details of the 59 items and their affected batches.
The FSA said a point of sale notice would be be displayed in all stores selling the affected SKUs, to explain to customers why the recall had been issued and what to do if they have bought one of the products.