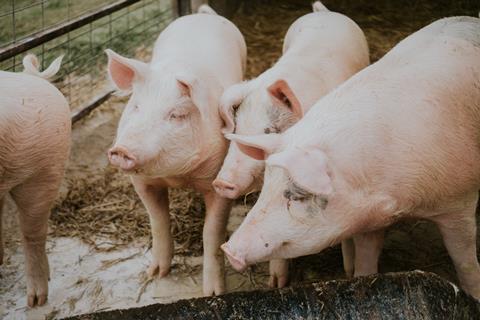 Soaring demand for pork caused by the African swine fever pandemic could create significant opportunities for food fraud, the Food Industry Intelligence Network (FIIN) has warned.
Speaking on the seventh anniversary of the start of the Horsegate scandal, FIIN board member and food fraud expert Professor Chris Elliott said fraud in pork supply chains was a very real threat due to the spread of the disease and the consequent tightening in pork supply.
Farming minister George Eustice warned in September that an outbreak of ASF in the UK was "expected within a year", while a surge in exports to China pushed year-on-year global pork prices up 10% in November to $2.75/kg [AHDB].
"A huge amount of pork available in the world is now going into China, meaning there will be shortages in other parts of the world," Elliott told The Grocer. Fluctuating commodity prices represented an "opportunity" for fraudsters, he suggested.
This was an area of particular focus for Elliott's Institute for Global Food Security at Queen's University, Belfast, he added – specifically fraudulent country of origin claims in the face of the price hikes.
Fish fraud was also on the industry's watchlist for 2020, Elliott said, with a number of fish companies having warned they were finding it difficult to compete in the current marketplace.
"Fish fraud is very complicated, and we will be investigating the rumours we have heard about potential frauds," said Elliott. "Often our investigations take place because we have been approached by companies which feel they are losing market share to food fraud."
Palm oil
Elliott's institute also planned to look into claims around sustainable palm oil this year, he added. It would aim to differentiate between palm oil produced under sustainable systems, and palm oil sourced from areas of massive deforestation.
"Currently, less than 20% of the world's palm oil comes from a sustainable industry, yet everyone we speak to tells me they are buying from sustainable sources," he said.
"As palm oil is known as a red oil, with a deep red colour, we have also been hearing through our own intelligence network that in some countries industrial dyes are being added to palm oil to increase its colour, giving it a perceived additional value."
Global warming would also increase the frequency of crop failures, placing more pressure on the herb sector in particular, and making it even more susceptible to fraud.
"One tonne of prime beef costs about £10,000, whereas the cost of one tonne of oregano is about £100,000. If you are going to cheat, which one would you pick to cheat in?"
FIIN was established in 2015 by a group of 21 technical leaders, in response to recommendations in the post-Horsegate Elliott Review for industry to create a safe haven to collect, collate, analyse and disseminate information and intelligence to protect the interests of the consumer.
Membership had doubled since launch, with the network now representing £115bn-worth of retailers, wholesalers and food manufacturers in the UK.
All these businesses shared a common goal to protect UK consumers from food fraud, said Elliott. "The more members we have, the greater our dataset and the more targeted and robust our intelligence becomes."
However, there were still some categories in which it would like to have wider representation, such as alcoholic drinks, commodity food ingredients, and food to go restaurants.
"Food crime is an ongoing and rising threat, but in my opinion the UK is now the best-placed country in the world to fight back. I urge more businesses to get in touch and find out how they can be involved."