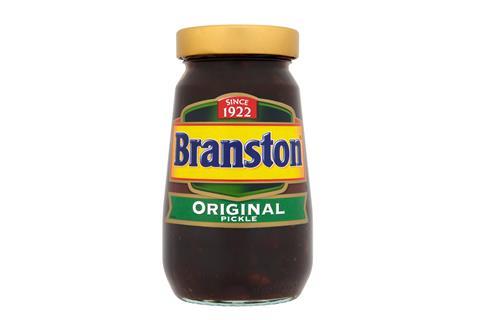 Branston has recalled 10 pickle SKUs over fears they may contain pieces of plastic.
The recall affects retail and foodservice lines of its Original, Small Chunk, Smooth and Squeezy Smooth ranges, with parent company Mizkan Euro saying the problem stemmed from its vegetable supplier.
Branston said it was "working closely with our primary authority and the FSA who are satisfied with our thorough investigation".
"We would like to apologise to our loyal consumers for any disappointment caused."
Shoppers have been advised not to eat the products in question, and will get a full refund upon returning them to the stores from which they were purchased.
It comes just over a year after Branston received close to 500 complaints from shoppers about the taste of a "rogue" batch of Branston pickle.
Shoppers claimed the products in question tasted like "rotten eggs", "disinfectant", "chlorine" and "washing-up liquid", but Mizkan found no issues with it.
Further bad news for the Japanese-owned company came in September with the announcement it had lost a "significant" own-label contract.
The full list of SKUs affected follows:
Branston Original Sweet Pickle 280g (Best before Jan 2022)
Branston Original Sweet Pickle 360g (Best before Jan 2022, Feb 2022)
Branston Original Sweet Pickle 520g (Best before Jan 2022, Feb 2022)
Branston Original Pickle 2.55kg (Best before Apr 2021, May 2021)
Branston Original Pickle 310g (Best before Jan 2022, Feb 2022)
Branston Small Chunk 2.55kg (Best before May 2021)
Branston Small Chunk 520g (Best before Feb 2022, Mar 2022)
Branston Small Chunk 360g (Best before Feb 2022)
Branston Squeezy Smooth Pickle 355g (Best before Jan 2022)
Branston Smooth Pickle 370g (Best before Jan 2022, Feb 2022)