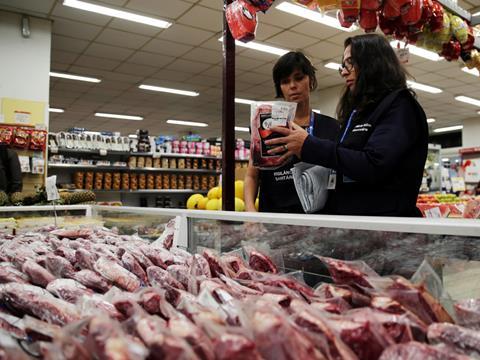 There is no evidence meat caught up in the Brazilian rotten meat scandal has entered the UK, the FSA has said.
The regulator said this week it was "monitoring the situation" after Brazilian federal police launched a massive raid on sites owned by 21 Brazilian meat companies on 17 March. However, it is understood that the scandal has led to heightened checks at UK borders.
Police raided a total of 194 locations on over allegations some of the country's biggest meat processors had been selling rotten beef and poultry for several years.
It closed three meat processing plants, placed another 21 under investigation, and suspended 33 government officials as part of the anti-corruption investigation, dubbed Operation Weak Flesh. Of the 21 under investigation, four plants exported to the EU. However, these establishments had had their export licences suspended, said the European Commission.
Investigators alleged that companies implicated in the scandal had treated rotten meat with chemicals and bribed government inspectors to help them obtain clearances and health certificates.
Among the companies implicated in the operation are Moy Park owner JBS and poultry giant BRF. However, both companies have vociferously denied any wrongdoing.
In a statement, JBS said it "strongly repudiates any practices related to product adulteration or tampering, whether in the production or sale of products, and it is available to address any concerns with the authorities".
Meanwhile, BRF published a detailed analysis of its own involvement in the investigation, stating: "BRF is publicly expressing its support to the inspection of the sector and to society's right to information based on the facts, without generalizations that may harm the reputation of reputable companies and generate unnecessary alarm to the population."
Suspension
The investigation prompted a suspension in meat imports from Brazil by China, while Brazil's president Michel Temer and his agriculture minister met with several ambassadors from countries that import Brazilian meat during the weekend, in a bid to allay concerns over Brazil's meat sector.
The European Commission was in "close contact" with Brazilian authorities, said spokesman Enrico Brivio, who added Brazil had "confirmed that the establishments involved in the investigation, which were allowed to export to the EU, have had their licences suspended".
The scandal underlined the importance of securing post-Brexit trade deals which upheld the "high standards of British food production", said NFU president Meurig Raymond.
"Trade agreements with countries across the globe must be balanced – with the same conditions applying to food imports and exports," he added. "Protecting the standards adhered to by British farmers and the transparency across the supply chain is essential for the public who want to buy safe and traceable food."
It also raised questions over whether the UK wanted to "make itself dependent on food from third countries" after Brexit, added British Meat Processors Association deputy director Fiona Steiger.