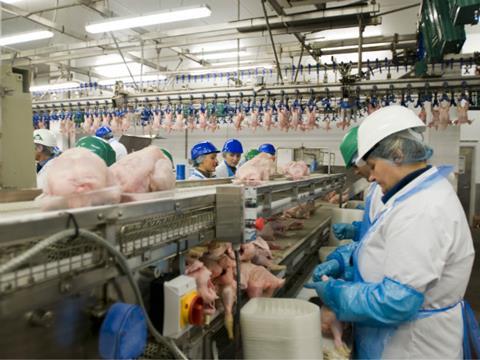 Tesco CEO Dave Lewis has said last week's ITV and Guardian exposé of alleged safety breaches at a 2 Sisters poultry plant had zero impact on sales.

Lewis said shoppers continued to have faith in its Farms brands products, despite its Willow Farms chicken being named in the scandal.

"We've seen nothing in terms of change in buying patterns," said Lewis, who said he had been "as shocked as anybody by these revelations". "It's not having an impact on the performance of the business."

Lewis said the Farms brands range of own label fresh food now featured in more than 70% of shopper baskets.

Tesco today reported UK like-for-like sales up 2.2%, with fresh food volume growth in the UK of 1.5%. Meat volumes were 6% ahead of the overall market, Lewis claimed this morning.

The CEO credited its Farms brands offer with driving volume growth and helping Tesco stave off price hikes,

"We continue to lead the market when it comes to protecting our customers from inflation," he said.

But Lewis was keen to stress he took seriously the findings of the ITV and Guardian report, which claimed to have uncovered a series of food safety breaches at a 2 Sisters poultry facility in West Bromwich that processes the Willow Farms brand as well as chicken for Sainsbury's, Marks & Spencer, Aldi and Lidl.

"Very clearly food safety is absolutely our priority," said Lewis, who said the plant in question had been audited by Tesco no less than six times this year.

"We immediately investigated as did the FSA," he said of Tesco's response, adding: "On Friday the FSA did not find anything. We are very serious about this issue but we are taking all the appropriate steps to ensure food safety and quality."

Tesco has promised to carry out a "rigorous investigation" into the claims alongside the FSA probe.