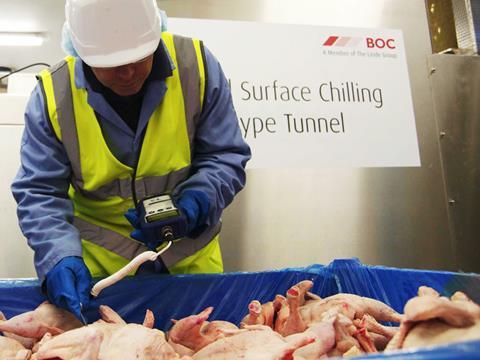 The FSA has turned up pressure on the food industry over campylobacter in chickens by revealing a third of consumers want contamination targets reduced.

As it prepares to relaunch its campylobacter survey of supermarket chicken - suspended in April over fears its data may no longer be accurate - the FSA revealed 66% of consumers thought retailers and processors should reduce the most serious instances of the bug below the current target of 10% of chickens.

The regulator's survey of 1,295 people and further qualitative polling suggested there was considerable appetite for lower targets, with most research participants indicating a proposed target level should be "as close to zero as possible".

FSA director of policy Steve Wearne welcomed the research results. "It's good to see that it is customers, and not just the FSA, demanding action and information from retailers," he said. "We have always said that consumer power will ultimately push industry action."
The current FSA target for chickens testing positive for the highest levels of contamination is 10% - equivalent to 7% of chickens sold in retail

"Further reductions in these targets have always been on the agenda," said one poultry industry source. "But what we are frustrated by is that the FSA keeps taking a swipe at the sectors working hard to tackle this bug."

Average contamination levels fell from 19% in December 2014 to 11% in February 2016, according to the FSA's campylobacter survey.

"Continual improvement is the name of the game," said British Poultry Council director of food policy Richard Griffiths. "But further target reduction should be consulted on."

The FSA said it had no current plans for new targets. It also admitted general awareness of campylobacter was still relatively low, despite having spent £5m on a campylobacter publicity campaign and research since 2011.
"Campylobacter is a complex bug to control but retailers nevertheless continue to work hard with their suppliers and other supply chain partners to reduce levels," said a British Retail Consortium spokesman.
"While retailers are doing everything that is reasonably and legally possible to reduce numbers, it is nevertheless still important for consumers to be mindful of the need to exercise extra care when it comes to storing and preparing chicken at home. Supermarkets are helping their customers in this regard by offering: leak proof packaging, oven ready packaging, consumer advice via labels, instore magazines and advice on their websites."