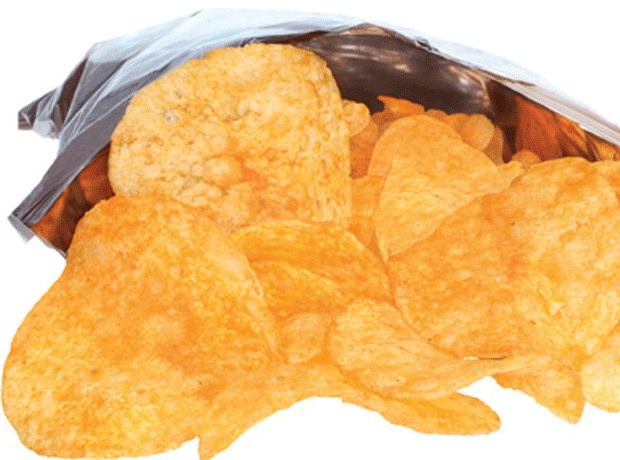 Nearly one in five bags of potato crisps on sale in the UK have potentially unsafe levels of the toxic chemical acrylamide, according to an independent report.
Tyrrells, Seabrook and major supermarkets were among the worst offenders, claims the study from the Changing Markets Foundation, which tested 92 potato snacks for the chemical. It found 16 samples (17%) exceeded the recommended EU benchmark of 1,000 µg per kg.
The Lightly Salted variant of Tyrrells' Sweet Potato range was the worst performer, with levels of the chemical at 2,483.6 µg/kg. This was more than 83 times the level found in products with the lowest concentration, Changing Markets said.
Seabrook was the only other brand on the own-label dominated list, with three SKUs above the EU benchmark, while Morrisons and Aldi were the worst-performing retailers, with three products each coming in above 1,000 µg.
Morrisons took positions two and three in the table with its Cheese & Onion Popped Snacks (2,067.5 µg) and Sea Salt Ridge Crisps (1825.8 µg).
Own-label crisps from Tesco, the Co-op, Waitrose, Sainsbury's and Asda were also found to have acrylamide levels above the EU recommendation.
Acrylamide was a chemical that formerd naturally in manufactured food as a result of cooking at high temperature, said Tyrrells. Studies on human subjects had "provided limited and inconsistent evidence of increased risk of developing cancer through raised levels of acrylamide".
Seabrook Crisps was "fully supportive of work towards understanding acrylamide", said the brand's Kevin Butterworth, marketing & international sales director. "We monitor our acrylamide levels on a monthly basis and have a number of initiatives to potentially reduce levels further. We recommend that crisps should be enjoyed in moderation as part of a healthy, balanced diet."
A spokeswoman for the Co-op said food safety was one of its top priorities. "We work with our suppliers to control acrylamide and keep levels as low as possible, and these products are safe to eat."
Morrisons, Aldi, Tesco, Asda, Waitrose and Sainsbury's had not replied to The Grocer's request for comment at the time of publication.
The findings come in the wake of a major public health campaign on acrylamide by the Food Standards Agency last year, after sampling by the watchdog confirmed Brits consume higher than "desirable" levels of the chemical.
This latest data showed "several companies found to exceed dangerous acrylamide levels by the FSA haven't done anything to address this problem", said Nusa Urbancic, campaigns director at Changing Markets. "This clearly points to the failure of self-regulation by industry and weak enforcement by the FSA."
However, a spokeswoman for the FSA said the agency was committed to reducing acrylamide in food and "working with partners and European Commission to find workable solutions".
"We support initiatives which require manufacturers to follow the codes of practice and make any changes they can in the production process to reduce acrylamide levels," she added.
"The FSA has been actively supporting the food industry in its development of codes of practice on acrylamide reduction for use throughout the food chain. The approach will require manufacturers to act on acrylamide or face enforcement action."
Changing Markets' samples – taken from different retailers across London in January 2017 – were prepared and analysed by Fera Science in York using gas chromatography−mass spectrometry, one of the standard methods for testing for acrylamide.