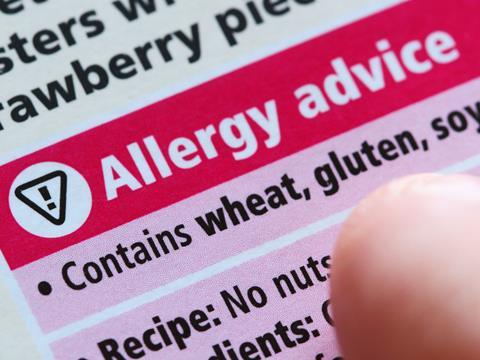 Proposals to toughen allergen labelling laws have been unveiled by environment secretary Michael Gove.
The new rules cover labelling requirements for foods made and packed on the same premises from which they are sold, such as a packaged sandwiches or salads from food-to-go retailers.
They follow calls for a 'Natasha's Law' in honour of teenager Natasha Ednan-Laperouse, who died from an allergic reaction in 2016 after eating a Pret a Manger baguette that did not carry allergen labelling.
Unlike pre-packed food, current allergen labelling rules do not require foodservice businesses to display allergen information on-pack. Information on allergens can be given in person by the food business if asked by the consumer.
Defra is calling for views on four potential options for legislation that is intended to improve the way allergy information is provided.
They include mandating full ingredient list labelling; mandating allergen-only labelling on food packaging; mandating 'ask the staff' labels on all products – with supporting information for consumers available in writing; and promoting best practice around communicating allergen information to consumers.
Reforming current allergen labelling rules would give the UK's two million food allergy sufferers "greater confidence in the safety of their food", Defra said.
"Natasha's parents have suffered a terrible loss, and I want to pay tribute to Nadim and Tanya for their inspirational work to deliver Natasha's law," said Gove.
"We want to ensure labels are clearer and that the rules for businesses are more consistent – so that allergy sufferers in this country can have confidence in the safety of their food," he added. "Many businesses are already bringing changes on board independently, and in the meantime they should continue doing all they can to give consumers the information they need."
The launch of the consultation, which will run for nine weeks, follows criticism of Pret's allergen labelling as "inadequate" by the coroner investigating Ednan-Laperouse's death in September.
The chain subsequently faced a litany of complaints over mislabelled food, alongside pressure from policymakers to reform its practices. It came under further scrutiny in October, after it was linked to a second death of a customer from an allergic reaction.
Meaningful changes
In the wake of the inquest into the death of Ednan-Laperouse, Pret CEO Clive Schlee pledged to make "meaningful changes" to its operations, and the chain is currently trialling full-ingredient labelling on all products in stores in London.
"We are deeply sorry for the loss of Natasha Ednan-Laperouse, and we have made a number of changes since we learnt of her death in the Spring of 2017" said a Pret spokesman yesterday.
"We agree that more needs to be done to help inform and protect people with allergies, and we have made a clear commitment to develop full ingredient labels for all our freshly made products. The trial of these new labels is progressing well, and we will be rolling out the new labels nationwide later this year."
Meanwhile, other food-to-go retailers have also come under the spotlight over how they protect customers from allergens, with Leon facing criticism earlier this month after it warned severe allergy sufferers not to eat at the chain.
Defra's consultation was welcomed by Food Standards Agency chair Heather Hancock, who stressed it was "essential for those of us with a food allergy or intolerance to know that we can trust the food we eat".
Accurate and reliable labelling was vital, she added. "In recent years choice, trust and availability has really improved for people with food allergies. We want those improvements to continue, so it's important that we hear from everyone affected, as part of this consultation. We're determined to keep on making life better for you."