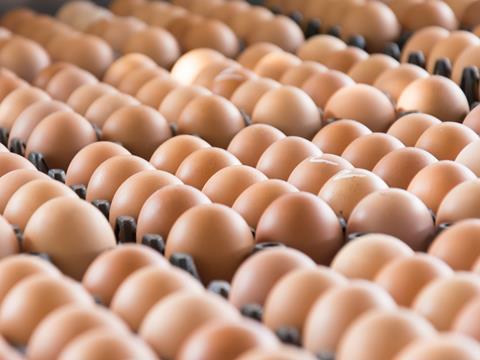 Several UK retailers are withdrawing products such as egg salads and sandwiches over concerns they may have been made with eggs from farms implicated by the fipronil contamination scandal on the continent.
Here's what you need to know.
Which UK products are affected?
So far, 11 products have been withdrawn, sold by Sainsbury's, Morrisons, Waitrose and Asda. They primarily include egg salads and sandwiches. Click or tap here to see the full list. Unlike on the continent, fresh shell eggs have not been affected in the UK.
Why are they being withdrawn?
The products are believed to have been made with eggs from European farms affected in a wide-ranging contamination scandal involving a pesticide called fipronil. It is believed a cleaning product used to treat red mite in chickens contained fipronil, even though fipronil is not supposed to be used on animals involved in food production.
How many contaminated eggs came to the UK?
The FSA currently estimates about 700,000, up from its previous estimate of 21,000. It says most of the products made with these eggs have a short shelf life and will have already been consumed. Products that are still within their expiry date are now being withdrawn.
Do I need to worry about shell eggs?
On the continent, millions of shell eggs have been withdrawn. But the UK is largely self-sufficient in shell eggs (about 85% of eggs consumed are laid here) and most major retailers source 100% British on their shell eggs.
The FSA says: "We have no evidence that eggs laid in the UK are contaminated or that fipronil has been used inappropriately in the UK. Testing of eggs on farms is underway across the UK and results to date for England and Wales show no exposure to fipronil."
What about chicken meat?
Dutch authorities have started testing chicken meat from affected farms as a precaution, though they have pointed out it is rare for farmers to produce both eggs and poultrymeat on the same premises.
The FSA says it has no evidence any meat from affected farms has come to the UK.
How dangerous is fipronil?
The World Health Organization classifies fipronil as "moderately hazardous". If ingested directly, symptoms can include vomiting, abdominal pain and seizures. In the case of the products withdrawn in the UK, the Food Standards Agency says there is unlikely to be a risk. The products are being withdrawn because fipronil is not authorised to be used in food production, not because there's a specific safety issue. It has also pointed out that many of the eggs affected were mixed with other eggs in the production of ingredients like sandwich fillers, "so Fipronil residues will be highly diluted". The European Commission's authorised safety level for fipronil is 0.72mg/kg.
Regulators on the continent have also stressed there is little risk to public health and contamination levels are low (ie only slightly higher than the 0.72mg/kg threshold), but regulators in Belgium revealed on Tuesday (8 August) that they had found some cases where fipronil content was high enough (0.92mg/kg) to pose a threat to health.
How did all this start?
In late July, Dutch regulator NVWA raised the alarm after finding traces of the insecticide fipronil in eggs produced on several Dutch farms. NVWA shut down the farms it feared could be affected (to date about 180 farms) and ordered a recall of millions of eggs. It published batch codes of the eggs under suspicion and warned consumers not to consume them.
What is fipronil and how did it get into eggs?
Fipronil is an insecticide that is used in lice and flea treatments for cats and dogs. It not allowed to be used on animals in food production. NVWA investigators believe it was illegitimately used in a cleaning product to treat red mite in poultry houses, with investigations currently centring on a Dutch poultry supplier that bought the treatment from a Belgian company. The poultry supplier, in turn, sold chicks to about 180 Dutch farms, which have all had their egg sales stopped temporarily. It is not clear if the Dutch supplier was aware the lice treatment contained fipronil. A criminal investigation is under way.
Other than the UK, which countries are affected?
The recall was initially focused on the Netherlands, Belgium and Germany. Germany in particular is a huge buyer of Dutch eggs, and German retailers have been at the frontline of the scandal. On Friday (4 August), Aldi Nord and Aldi Süd announced they were removing all fresh eggs from sale as a precaution. Eggs have also been recalled by Lidl, Rewe and Penny.
Since then, the scandal has widened to the UK, France and several other European countries.