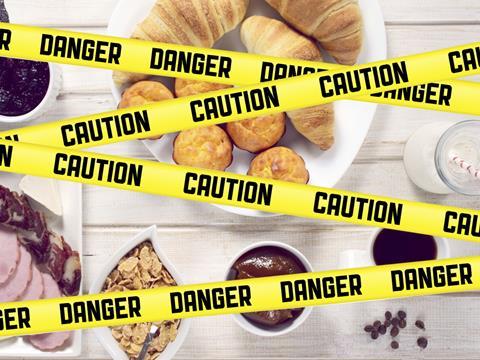 Food standards authorities are reviewing their food product recall and withdrawal procedures after an increase in the number of global food recalls.

The joint review by FSA and Food Standards Scotland hopes to improve the procedures so "consumers have greater protection from food that is unsafe or not what it says it is, and feel more empowered to make informed food choices", said a spokesman for the FSA.

The commissioned research will look into the processes involved in the food retail sector, both inside and outside the UK, for product recalls.

"The work mainly involves the FSA and FSS working with stakeholders to gather necessary evidence to assess the effectiveness of current processes from a consumer, food business and a regulator perspective," said the spokesman. "We will then collectively identify and implement actions to improve those processes in order to maintain confidence in the food chain.

"We hope to begin carrying forward recommendations during the summer of 2017."
It comes as food researchers called on the industry to change the definition of a 'food scare' to help identify risks in the supply chain.
Academics from the University of Surrey have developed a new categorisation for the term in a study in the British Food Journal. The new definition is: "A food scare is the response of a food incident (real or perceived) that causes a sudden disruption to the food supply chain and to food consumption patterns."

This compares with the existing commonly used definition: "A confirmed outbreak of food borne illness that leads to a marked and relatively sudden fall in consumer demand."

Researchers said the 2013 horsemeat scandal created a wariness among consumers about the food supply chain, but the current definition of a food scare failed to acknowledge this.

The study suggested the categorisation should classify both the "physical manifestation" of a food scare, such as contamination, as well as its origins, for example deception. Researchers believed this could help identify risks within the supply chain.

"With food scares becoming more frequent, it is important that we have a categorisation system which enables efficient development of strategies to tackle such compromises to our food supply," said co-author of the report Professor Angela Druckman. "We hope that it [the new definition] will get adopted by the FSA."

Dr Elizabeth Whitworth from rural consultancy ADAS added: "The salient feature of the new categorisation is that it distinguishes between scares caused by wilful deception, and those that are caused by transparency and awareness issues."