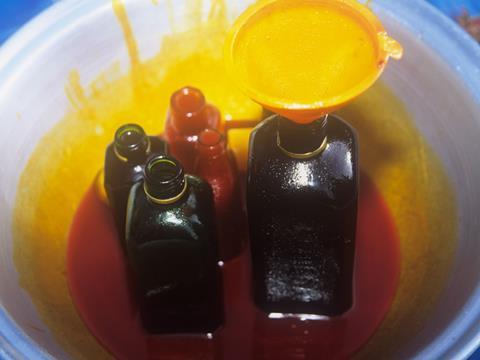 UK retailers and manufacturers have been urged to remain vigilant after European authorities issued fresh warnings over palm oil from West Africa adulterated with industrial dye.
Over recent months there has been a spate of food safety alerts issued by the European Commission's RASFF portal related to palm oil from Ghana and Nigeria found to be contaminated with the Sudan IV dye, which is banned for use in food over fears it is a genotoxic carcinogen.
One batch of palm oil contaminated with Sudan IV was distributed to Austria, Cyprus, Denmark, Finland, France, Germany, Ireland, Italy, the Netherlands, Poland, Portugal, Spain, Sweden, Switzerland and Ukraine, according to Fera Science's HorizonScan food safety portal.
Adulterated palm oil from Ghana was last found in the UK in 2015, when the FSA discovered two incidents of Sudan IV in products found at UK food businesses.
"In 2016, following an increase in incidents of palm oil contaminated with Sudan IV, the European Commission introduced a 50% testing regime for palm oil products originating from Ghana," said an FSA spokesman.
The latest EU regulations, issued in December 2017, have maintained the 50% testing regime on palm oil from Ghana, suggesting Sudan dye is an "ongoing issue", said Susan MacDonald, science lead for mycotoxins and natural toxins at Fera Science.
"The fact there are so many checks at the borders would mean quite a lot is not getting through," she added. "But retailers and manufacturers should be checking to make sure their ingredients don't contain it."
Sudan dyes belong to a family of industrial azo-dyes used to colour plastics, leather, fabrics, fats, oils, waxes, polystyrene and cellulose.