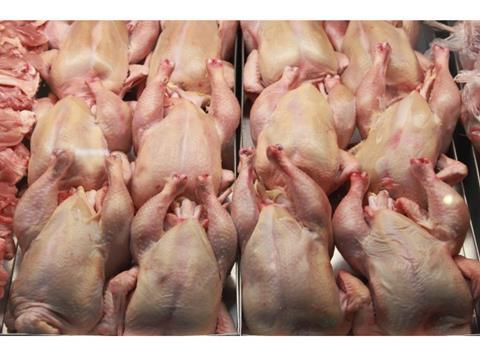 Survey results published by the Food Standards Agency yesterday (5 August) revealed that 59% of fresh shop-bought chickens tested positive for campylobacter.
The figures came from the first batch of quarterly results from the FSA's 12-month survey on campylobacter contamination of fresh whole chickens and their packaging. They were in line with previous studies that had shown around two thirds of raw poultry carries campylobacter, said the FSA. Campylobacter is the most common form of food poisoning in the UK and affects an estimated 280,000 people a year.
We asked suppliers, trade bodies and industry observers for their views on the results:
British Retail Consortium
Andrew Opie, director for food and sustainability:
"The figures simply confirm why this is our number one priority for food safety. We're working really hard right across our supply chain but sadly there just isn't a magic bullet that will get rid of campylobacter because it occurs naturally in poultry.
"However, we are very pleased to see that the very latest developments supermarkets are using in packaging are proving effective, with 96 per cent of the packs testing negative for any campylobacter. This is a real step forward.
"Whilst we continue to invest to find a solution to campylobacter we are supporting the FSA to get clear advice to consumers as highlighted recently in Food Safety Week to prevent contracting food poisoning from raw chicken through proper cooking and kitchen hygiene. Today is another good opportunity to help raise awareness and prevent illness."
British Poultry Council:
"The average figure of 59% of whole birds with campylobacter is a slight reduction on previous surveys.
"Campylobacter reduction is our top priority. The poultry industry has been working closely with the FSA on developing techniques and technologies that will reduce the prevalence. We are confident that a number of emerging technologies will help us take significant steps forward in the near future.
"These figures confirm the difficulties that we are facing. We support the FSA's efforts to reinforce good kitchen hygiene practice, and to raise awareness of the issue and the progress we are making.
2 Sisters Food Group:
Did not comment as the FSA report was not "specifically about us", and referred The Grocer to the British Poultry Council comment.
Faccenda Foods:
"At Faccenda Foods, we recognise the food safety challenge posed by campylobacter and continue to make significant financial and resource investments to address this top priority issue.
"Faccenda Foods is encouraged by the Food Standards Agency's first quarter's Retail Survey results which show a marked improvement compared with the previous data. This demonstrates that we are on track to meet the FSA 2015 target. These results reinforce our decision to invest heavily throughout our supply chain through the Faccenda Foods Action Plan. The plan includes three key areas - biosecurity measures on our farms, interventions in our factory operations and improved food safety in the kitchen.
"Faccenda Foods has taken steps to improve biosecurity arrangements on all of our farms, where we have implemented the new higher Red Tractor standards.
"In factories, Faccenda Foods is trialling process interventions aimed at significantly reducing the incidence of campylobacter. If, as expected, these factory trials are successful, we commit to spending a further £1m on innovative technology which could reduce campylobacter by up to 90%.
"Faccenda Foods has led the way in radically improving food safety in the kitchen through novel product and packaging design. Working in partnership with Asda in 2013, we launched a first-to-market range of award winning Butchers Selection 'Simply Roast in the Bag' products. As the chickens are cooked in oven-ready packaging there is no need for consumers to handle food which improves food safety at home and significantly reduces the risk from campylobacter.
"Focusing on all parts of the food process – farming, factory and the kitchen – supported by £2m invested in process and product innovation, Faccenda Foods is confident that it will meet FSA targets and further reduce the risk of food borne illness from campylobacter."
Which?
Richard Lloyd, executive director
"The FSA's survey reveals unacceptably high levels of campylobacter and they must now publish the names of the retailers so consumers are aware of the best and worst performing shops.
"Campylobacter is responsible for thousands of cases of food poisoning and the deaths of 100 people every year so much more must be done to minimise the risk of contamination at every stage of production."