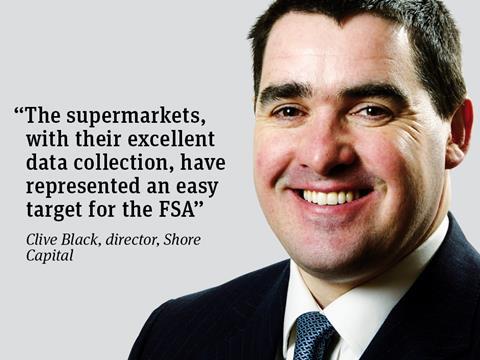 The FSA deserves credit for the way it has gone about seeking to tackle the serious issue of campylobacter. The organisation that didn't see Horsegate coming and looked like a rabbit in the headlights when it did has taken bold steps to highlight the problem, beating the supermarkets over the head with regular league tables as it seeks to name and shame.

In its most recent update, the FSA found 76.3% of raw chicken skin samples were positive for campylobacter, with no retailer apart from Waitrose really covering itself in glory; the Waitrose 'score' was 59.2%.

Such contamination levels are a concern and we know the poultry industry and retailers alike are spending a lot of time and resource structurally improving their controls.

While this is good effort all round, we wonder why the FSA does not report the overall outbreak of campylobacter in the UK. Does the FSA reveal the amount of campylobacter that occurs in food eaten out of the home? Does the FSA actually know the incidence of foodborne illness, campylobacter or otherwise, across the UK? Does the FSA have a systematic, structured and accurate data collection programme that allows for fulsome and comprehensive analysis and management in all establishments?
"Does the FSA actually know the incidence of campylobacter?"
The retail channel must bring to fulfilment its responsibility to do everything it can to reduce the incidence of foodborne illness. While so, we believe the supermarkets, with excellent data collection, have represented an easy target for the FSA.

The FSA should also, perhaps, be brought to account by the public - as Professor Chris Elliott, the true consumer champion has suggested - to demonstrate it is fit for purpose in protecting the public across the whole food chain with respect to campylobacter and other challenges.

Indeed, the FSA might also like to inform, educate and reassure the public that properly handling and cooking chicken can all but prevent campylobacter in the home; who eats raw chicken?

Just as the FSA rightly questions the supermarkets, the public may like to start asking some straight questions as to the capabilities, competencies and structures of the FSA.

Clive Black is head of research at Shore Capital Stockbrokers