It was the biggest crisis to hit grocery in decades. Five years on, we ask six leading figures to relive their memories of watching 'Horsegate' unfold from the front line.
It was 5.40pm on a bitterly cold Friday evening when the bad news landed portentously on Professor Alan Reilly's Dublin desk.
Test results had just confirmed what the then chief executive of FSA Ireland had feared for two months, namely that frozen supermarket beefburgers being bought and eaten by an unwitting public contained undeclared horsemeat.
The news had arrived only days after Irish food minister Simon Coveney had sung the praises of the country's food and drink, as exports sailed above €9bn. The bombshell test results left Reilly wringing his hands. "I was just thinking good heavens, this is going to let all the wind out of the sails. I spent the weekend with a hot towel over my head."
But after 48 hours poring over every last bit of data "to ensure we weren't going to cause an unnecessary national scare" Monday came and Reilly had no choice but to make a very difficult call to ministers. "Needless to say there was disbelief all around. They were in complete denial this could be happening." But it was. And at frightening speed.
By Tuesday 15 January 2013, the explosive tests had gone public, with Reilly and his team fielding a flurry of media enquiries ("we had 11 calls before 11am") from national newspapers and broadcasters, a press onslaught they were completely unprepared for.
Casefile: how Operation Boldo found the culprits
Their undoing was a single pallet of meat.
It was late 2012 and London meat manufacturer Dinos & Sons, led by boss Andronicos Sideras, had less than 24 hours to prepare a batch of 'Special Beef' at its cold storage facility in Tottenham, mixing Polish beef with Irish horsemeat as part of an agreement with meat broker Ulrik Nielsen of Flexi-Foods.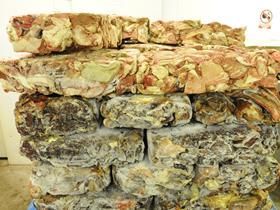 In a rush they mistakenly attached the wrong batch of fake pallet notes to the load, sending it off to Rangeland Foods in Co Monaghan, rather than Silvercrest Foods. The frozen blocks were rejected for being outside the scope of its machinery and Newry-based Freeza Meats was asked to store the rejected load in its warehouse, though the company has always denied knowing its contents. Then it received an unexpected visit from an environmental health officer on the hunt for undeclared beef hearts.
"If they hadn't rushed that job, if the EHO had gone in a week or so later, this would still be happening now," says Detective Constable Stephen Briars, discussing the case five years on at the City of London Police offices.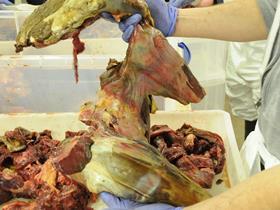 Briars joined Operation Boldo, the team assembled to investigate the criminals behind Horsegate, in August 2013. It was an unusual case. "We work here in the Square Mile. There aren't any food producers." But there was talk of funds being made available for a National Food Crime Unit following the scandal (funds that ultimately went to the FSA) and so Briars was asked to take it on.
Sifting through the material, including 12 tonnes of now rotten, defrosted meat seized from the Freeza Meats facility and 28 crates of documents in four languages, the team quickly established an arrangement between Flexi-Foods and Dinos & Sons, with arrests as early as July, but they needed a smoking gun to prove the men knew exactly what they were doing. The turning point came in 2014 when Danish police gave permission to Briars to search through Flexi-Foods' offices there, where they discovered and seized an offsite server containing damning emails that labelled the contaminated loads 'Special Athena Beef' and talked brazenly about 'mixing' meats.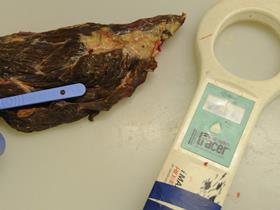 "Once we had that there wasn't really anywhere for them to go," says Briars. "When I interviewed them and showed them these emails you could see their faces thinking 'oh my word we've been rumbled here'." Nielsen and his assistant Alex Beech never said a word in interviews, though, simply pleading guilty to fraud in October 2016, while Sideras insisted he'd had no part in the crime at trial in July 2017. All three were sentenced in September 2017, with Nielsen and Sideras sent to prison for a combined total of eight years, while Beech received a suspended sentence.
"The judge threw the book at them," says Briars. "The sentences were for punishment, not rehabilitation. It hopefully sent out a message that if you're doing this there's a chance you'll be caught and convicted."
That momentum gathered furious pace as images of pet ponies served up to shoppers between two hamburger buns were splashed across front pages. Journalists called for hourly updates. Politicians pushed for answers. And trust in the food and drink sold by some of the biggest names in grocery was put in jeopardy.
It has been five years since Horsegate came screaming into the public consciousness, spawning hundreds of news articles, the withdrawal of millions of products, five government reports, a three-year police investigation and the conviction of three men for fraud.
All the more shocking, then, that its detection came about practically by accident, with only two chance discoveries coinciding in November 2012 lying behind the biggest scandal to hit grocery in decades.
Two chance events
The first was in Northern Ireland, where an environmental health officer had received a tip-off that supplier Freeza Meats, which sold beefburgers to the likes of Asda, had been adding undeclared beef hearts to its burgers (an offence for which they pled guilty two years later, incurring a fine of £42k).
Arriving to inspect the factory on a Newry industrial estate, the EHO spotted 12 tonnes of meat at the back of the warehouse, badly wrapped in dodgy shrink wrap and mottled with freezer burn. Suspicious, she took samples for testing, a move that would later flag up the first discovery of horsemeat in the UK (though Freeza Meats has always denied any knowledge of the contents of the load).
That same month across the Irish border Reilly and his team at FSAI were finalising the details of their annual authenticity study. They did it every year, with previous investigations into honey and fish, but 2012 was the turn of meat, and they settled on looking at processed products that could be difficult to identify.
"At this stage we had no idea what was going on," insists Reilly. He admits there was "a little bit of food safety intelligence" prompting their focus though, with scattered reports on the EU Rapid Alert System of fake horse passports across Europe. "It wasn't a harmonised process like it was with beef where there's a rigid system for tagging and traceability. It dawned on us there were opportunities for potential fraud.
"Ireland was also just coming out of a recession. There were lots of ponies and horses that people could no longer afford and owners were looking to make some money to recoup from these animals. The food chain could be a dumping ground for an animal welfare problem."
By the time details for the study were finalised, though, it was late in the year and time was short. Rather than food inspectors, the team tasked a personal assistant with two young children who was heading out to the local shops to bring back samples. Early tests on frozen burgers detected horse. "I said, are you sure?" remembers Reilly, before sending out the PA once again to collect more products off the shelves, this time on the hunt for specific production codes. The results were the same.
Painfully aware that "if the horse manure hits the fan the first thing people are going to come after is our methods", Reilly sent off for one last round of testing in early December, this time from an accredited lab. Before that "there was no obligation to say what we were doing. For it to leak out we were doing testing on horsemeat would've caused a story in itself and we couldn't go out without sound scientific data."
Arriving at 5.40pm on Friday 11 January the data from the Eurofins lab in Ebersberg, Germany confirmed not only the presence of horse, but levels reaching up to 29% in some cases, with implicated products stocked by major supermarkets.
Events moved quickly. Within 24 hours the FSA, led then by CEO Catherine Brown, had gathered industry representatives together at an urgent meeting to agree next steps. By that same afternoon, Tesco, Aldi, and Asda had withdrawn 10 million burgers from their shelves. Worst hit was publicly owned Tesco, which watched its share price plummet by £300m.
Within a fortnight Tesco and the Co-op had dumped ABP-owned Silvercrest Foods amid allegations it had been supplying adulterated burgers, with nine out of 13 patties tested at the Irish processor's plant allegedly containing horse. The business shut its factory doors a month later.
In the first week of February, the FSA confirmed that the 12 tonnes of meat seized from Freeza Meats' cold store in Northern Ireland contained 80% horse, with the subsequent discovery of metal ID chips linking the meat to pet ponies in Poland and Irish prized hunter Carnesella Lady only adding fuel to the tabloid fire.
News of a second compromised supply chain broke later that month as FSA tests revealed Findus beef lasagnes produced by French supplier Comigel contained up to 100% horse. Then a third stream was uncovered, as ramped up investigations by FSA officers saw slaughterhouses raided in West Yorkshire, and arrests made near Aberystwyth.
Amid the furore, MPs demanded quicker test results, specialist investigators and greater clarity from authorities, while a defensive FSA faced down critics and the embarrassment of failing to pick up on the fraud itself.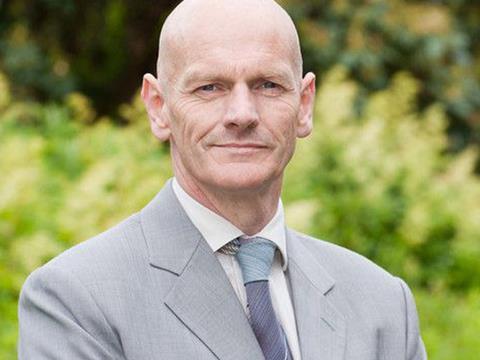 Five 'explosive' findings of the Elliott review
● Complex supply chains and demands for cheap food fuelled our exposure to fraudsters . Buying strawberries in winter and Brussels sprouts during a heatwave might give British shoppers more choice but this global food market 'has become a highly complex system' with consumers accustomed to 'variety and access at low cost, and at marginal profit to suppliers'. This 'very competitive' climate with 'a constant drive to reduce cost and maximise profits' increased opportunities for food crime, found professor Chris Elliott (above), chair of Food Safety and Microbiology at Queen's University Belfast.
● An intelligence 'impasse' left food crime bottom of the agenda . A vicious cycle between lack of intelligence and police priorities meant crucial information on food crime was neither being gathered nor shared. Quite simply 'police do not become involved in food crime for lack of criminal intelligence justifying their involvement, while criminal intelligence is not sought in relation to food crime because it is not a police priority'.
● Deep cuts left enforcement services in dire straits . Billions of pounds worth of budget cuts were implemented under the coalition between 2010 and 2015. Trading Standards departments were 'cut to the bone', with an average funding cut of 40%.
● Britain was unprepared . Elliott urged the FSA to develop more 'robust mechanisms to respond quickly and decisively' including strengthening its Major Incident Plan and consulting with crisis management experts. Elliott also criticised insufficient lab facilities in the UK, with many products sent outside the country for testing, and the government's decision to split responsibility for food authenticity between the FSA and Defra only adding to the confusion.
● Industry can't afford to turn a blind eye . Retailers that suspect dodgy dealings must investigate and, if necessary, share intelligence, urged Elliott. Or risk being seen as complicit. A supermarket securing food well below the market price, for instance, where 'it might be inferred that the most obvious way the supplier was meeting that price was by committing fraud by misrepresentation', has to be able to show it had zero grounds for suspicion that product was counterfeit or adulterated.
Watching all this unfold on BBC News from his home in Belfast, Professor Chris Elliott was in no doubt the discovery was set to "open a can of worms" for the food and drink industry across the UK.
Having spent years looking at contaminated food supply systems for Queen's University, Elliott quickly found himself called upon by TV stations and newspapers for his take on the unfolding scandal.
It was an "unnerving" experience, he recalls. "I've always tried to give a measured response, I'm not sensationalist, but there were questions asked where I was thinking 'if you give an inappropriate answer here you could cause a lot of reputational damage to a business or they'll end up suing you, Elliott'. That was always in the back of my mind.
"What was really very unusual in this was that nobody was quite sure in government who should lead on it. It was a hand grenade being passed around different government departments and nobody particularly wanted to take responsibility."
The FSA had been caught on the back foot. Its various duties and remits had been disassembled and delegated over a number of years, some to Defra, others to the Department of Health. "It was a good illustration of how fragmented food had become in the UK."
But finally environment minister Owen Paterson stepped forward to take the lead. The MP for North Shropshire had been "stomping round the world" singing the praises of British food and drink since his appointment to the role in September 2012. When the story broke, he had just returned from a Shanghai food festival, where "we had to sell the UK as the world's most advanced, technically correct and safe food".
Paterson called an emergency summit with industry leaders and the FSA on the second Saturday of February, before flying to Brussels the following week to discuss the erupting scandal with his European Union counters.
Horsegate represented "a real threat to the British food industry" he says. "Although this plant was in Ireland we were inevitably going to get swept up in the potential backlash. We took it with the utmost seriousness. It's not just a financial fraud, it's potentially a health fraud on the public.
As well as calling for "a properly manned and financed food intelligence unit looking at food fraud so you had real experts", Paterson and Defra "imposed a pretty rigorous programme of testing, probably the most rigorous of all EU member states".
As a result, by the end of February FSA tests had uncovered 18 adulterated products across 15 companies spanning UK supermarkets, foodservice and wholesale. But the most thorough testing came from the retailers themselves, with 5,000+ products checked in a matter of weeks – a huge undertaking.
'Retailers wanted to do it'
"I was amazed how quickly we did it," says Andrew Opie, food director at the BRC, who worked with retailers to coordinate and collate those results. "Retailers wanted to do it. It was their product on the shelves. But the resource to do that was substantial. Testing budgets for a year were expended in a matter of weeks. Labs were used outside the UK extensively."
It was worth it, though. The first round of results published on 15 February revealed only 0.5% of more than 1,000 products were adulterated. Second and third rounds, taking in 95% of all relevant products, showed only a "handful".
"Those figures were really anticipated by the media," remembers Opie. "It was the first comprehensive approach, and when they were published they realised it was a very small proportion. At that point media interest dropped off markedly."
It wasn't the end of the revelations by any stretch. Only the following month a third wave of tests by the FSA uncovered contaminated bolognese and corned beef in Asda, but the lurid headlines began to subside. Industry and officials could take a breath. And by April the dust had sufficiently settled for the City of London police to begin criminal investigations.
Within months, Operation Boldo, led from August by Detective Constable Stephen Briars, had begun joining the dots of how horse ended up in products in the UK, bringing in Andronicos Sideras, the boss of Tottenham sausage manufacturer Dinos & Sons, for questioning, and sifting through the rotten remains of the 12 tonnes found in Northern Ireland for further proof.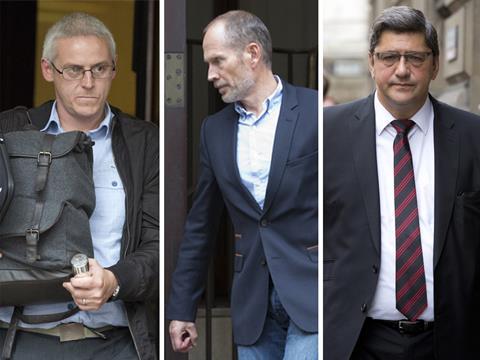 But it would take years before Briars had the evidence he needed to bring Sideras and accomplices Ulrik Nielsen and Alex Beech, both from Hull-based Flexi-Foods, to trial (see box). It wasn't fast enough for some. "MPs were putting pressure on us, and with any slight indication something was happening journalists would park outside," says Briars.
"The whole thing for a while became a frenzy but we had to build our case slowly, so they got frustrated." The fact that his team dwindled from "one sergeant and a handful of analysts" to "yours truly" didn't help. When the jail sentences were finally handed down in September 2017, "it was quite something".
"We'd been waiting for 14 months for the trial from the date they were charged. Before that we had at least 12 months of waiting for them to review the evidence. It was a sense of relief. It had been a long road."
Catching the bad guys
Suspects at the heart of the EU network though, through which slaughtered horses were shipped in from Romania, allegedly by Dutch meat trader Draap, and sold on to French processor Spanghero and manufactured into Findus lasagnes, are yet to stand trial for their part in the scandal, despite being charged in 2014.
Ultimately, the ringleaders got away, believes Norman Bagley, director at the Association of Independent Meat Suppliers, who spoke out on behalf of small independent meat processors who, he felt, were unfairly targeted throughout the scandal.
"The three men prosecuted were but a pinprick in the scale of the whole thing," he says. "Five years ago, of course, scapegoats were needed and these micro businesses were tailor-made for the job, even though all the 'horsemeat' that was legitimately traded between them added up to no more than a couple of pallets of meat, when the true scale of the entire horsemeat operation added up to literally thousands of tonnes."
The real smoking gun went unchecked, he believes. "It was left to Mary Creagh, the shadow Defra minister, to ask the killer question 'where are the 25,000 missing horses in Southern Ireland?', to the complete embarrassment of the Defra minister."
But while politicians hurled allegations at their opponents in the House of Commons, retailers began to pick up the pieces of their damaged reputations. The blow had been severe. By February 2013 three-quarters of consumers felt less confident in the safety of processed meat, 49% were planning on cutting back on red meat, and 79% were convinced horse had been hiding in their burgers for years, according to research at the time by Harris Interactive.
Restoring reputations
It was a long slog restoring that tattered trust. Opie and the BRC worked closely with retailers to improve intelligence gathering, Tesco promised new testing regimes and Waitrose committed to a new in-house production unit. The FDF developed and distributed new guides on food authenticity to suppliers, establishing new regulatory and technical committees too.
A longer term trend toward British meat began, too. "People could trust their burgers, and so it did the independent sector an enormous amount of good, most of which has been sustained subsequently and built on," says Bagley.
And the aggressive buying practices flagged up by Professor Elliott in his September 2014 report have been put under the spotlight, following the creation of the Groceries Code Adjudicator role only days after the scandal broke.
It had been in June 2013 that Paterson announced Elliott as the man to lead an independent and wide-reaching inquiry into how the industry had become vulnerable to fraud in the first place. Over the course of 12 months Elliott worked up to 90 hours per week interviewing and visiting hundreds of businesses the length and breadth of the UK.
"It just completely subsumed me," he says. "I was taken aback by how complex things really were. I knew food systems were complex but I didn't really understand the full complexity of what was going on and the multitude of stakeholders involved.
"The fact was, it was something that involved nearly four million people in the UK and was worth £100bn plus. Can you imagine the vested interests that sit behind all of this?"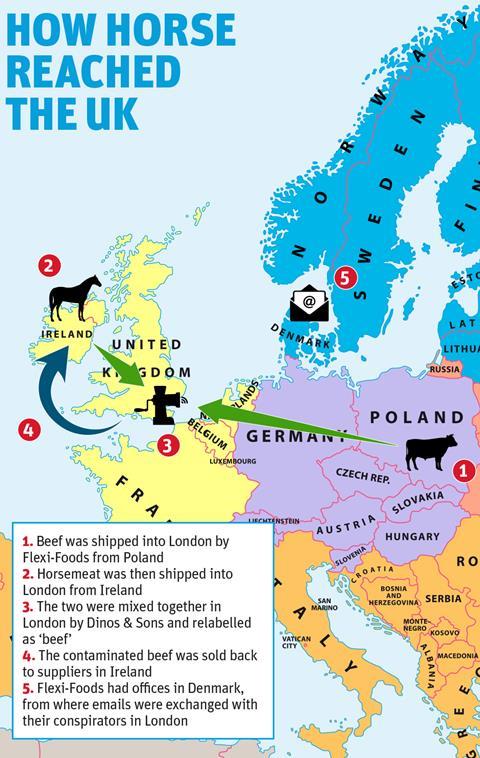 Through it all Elliott, backed up by Paterson, insisted on talking about 'food crime' – a term that hadn't existed before Horsegate but now throws up 75,000 search results on Google – despite "a lot of resistance in government".
"When I talked to people about 'food fraud' they thought it was quite trivial, like a local butcher sprinkling sawdust into his sausages, but I was trying to get across that this was criminal activity, this is people destroying businesses, threatening the safety and wellbeing of consumers. It was extremely controversial."
As were some of his findings (see box), with the interim report in December 2013 labelled 'explosive'. Industry figures such as Opie are still uncomfortable with the view that bullying buying practices had contributed to the UK's vulnerability to Horsegate. "I don't accept that was the case then, or now. This is deliberate food fraud. This happened to be on meat but we're constantly trying to battle food fraud."
An ongoing battle that has seen the establishment of a new EU-wide food fraud unit, a National Food Crime Unit here in the UK (albeit subject to ongoing criticism over its role and resources), a renewed focus on the provenance of products and transparency of supply chains across the entire sector, and more targeted testing regimes from the household names that suffered so severely at the hands of Horsegate.
But is it enough? Is the UK now protected from a repeat of the scandal?
"Illegal slaughtering and subsequent sales of dodgy meat is almost impossible to stamp out completely and if it isn't seen as a threat to public health it might even be given the blind eye," says Bagley. "Local authorities are not kitted out nowadays to carry out multiple inspections on farms, so it's likely it will be going on somewhere. You don't have to be the brain of Britain to work out that food fraud is attractive to criminals with livestock prices as they are these days, and the cost of legal slaughtering so high.
But though "it's not impossible it will happen again, the reputational damage to the retailers means they're much sharper now," adds Batley. There was too much reputational damage to them and their supply chains to get tangled up in anything like that again. That has probably been far more powerful than any regulatory solutions yet devised."
Reilly agrees. "We won't have another horsemeat scandal as the industry have taken over the quality assurance," he says. "These days you can't buy that type of processing beef on the international market without a certificate of authentication.
"That was led by the likes of Tesco, who were particularly burned by the horsemeat scandal. The industry have the checks and balances in place. But food fraud is a serious issue, not only in Europe but globally. It hasn't gone away."
"What Professor Elliott flushed out was that it was a major source of illegal funds," adds Paterson. "We had to ramp up the attitude. It wasn't just a fraud, it was a crime. It still is potentially a major area of crime and it needs to be taken seriously at the highest levels to ensure we do have a proper intelligence-based unit as we originally planned following his report."
Need to improve intelligence
Currently that isn't the case, in Briars' view. "This could happen tomorrow and nobody would be able to deal with it. There's no capacity to investigate this type of fraud. The National Food Crime Unit has become an information data centre rather than having a dynamic capacity to go and investigate. Is there a capacity to respond to a large national food fraud? I don't think there is."
Opie is reluctant to provide a firm view on whether we could see Horsegate 2.0. "That's purely speculative so I'm not going to answer that but we still need to go further to improve intelligence," he says. "And not only intelligence but the exchange of information around incidents.
"We know that during the fipronil incident the flow of information from affected countries did not work particularly well and made it extremely difficult for retailers to trace products potentially affected. I can't speculate but there is definitely more to be done to make the system more robust."
For Elliott, it's a familiar question "posed to me a number of times" since the story broke.
"I would always say the amount of money that can be made in food fraud is staggering. Criminals are criminals, they'll always try to set out to exploit systems, look for gaps and weaknesses. The food system isn't getting less complicated but more, with crop failures due to climate change, the growing middle class in China and India, and Brexit another one of the great unknowns – all those things are drivers for fraud.
"The UK is in a much stronger position post-Horsegate but we can't relax for a moment. People will always be out there trying to test the system."
And the events of 2013 will forever act as a stark reminder of the pandemonium that can be unleashed when they succeed.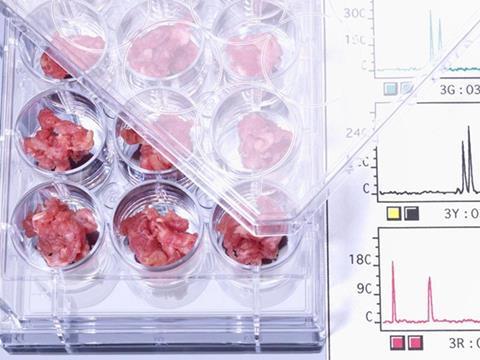 The Grocer was also at the forefront of reporting the horsemeat scandal. We have unlocked a series of specially curated articles from our archive to mark its fifth anniversary to give readers an insight into the impact it had on the food manufacturing industry.