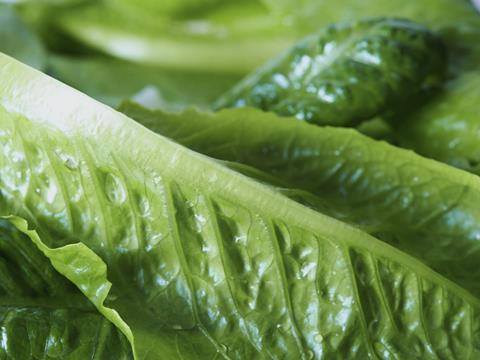 The contribution of food to infectious intestinal illnesses such as norovirus and campylobacter in the UK is much higher than previously thought, new research by the FSA has found.
And lettuce is a key source of norovirus cases.
From a total of 18 million cases of infectious intestinal illnesses (IID) in 2018, some 2.4 million cases were linked to food consumption, according to a scientific review published by the food safety watchdog today (20 February).
This compared to an estimate of just one million, based on 2009 research by the FSA, out of a total of just under 17 million cases.
However, the FSA stressed the new figures did not indicate an increase in total illness, or any new risk to public health, but rather a "better estimation of the proportion of infectious intestinal disease that is due to food" from improved data. The increase in the total number of cases reflected population growth, it added.
Around 61% (1.4 million) of the foodborne cases were unattributed according to its analysis of 2018 data, with one million linked to a specific pathogen.
Norovirus had overtaken campylobacter as the most prevalent pathogen, with a median estimate of just over 380,000 cases a year, compared with a previous estimate (with less accurate data) of 73,000 in 2009.
Campylobacter was linked to about 299,000 cases, followed by clostridium perfringens with 85,000 cases, the study found.
Of the five pathways or sources identified as posing the most significant risk for norovirus foodborne transmission in a separate study also published by the FSA, eating out was responsible for 37% of cases and 26% was linked to takeaways.
Lettuce risk
Some 30% of cases were linked to open-headed lettuce sold in retail with 3% linked to oysters sold in retail and 4% linked to raspberries sold in retail.
Estimating the contribution of norovirus to the burden of UK foodborne disease had been particularly difficult up until now, said professor Sarah O'Brien, the lead researcher for the FSA's Norovirus Attribution Study.
"This is largely due to people not attending doctors' surgeries when they are unwell with symptoms of the winter vomiting bug," she added.
Whilst helpful in preventing the spread of the virus and alleviating the strain on healthcare settings, it meant "crucial information about the virus could not be collected", she suggested.
"This work gives us a much better idea of the role of food in the spread of all infectious intestinal disease in the UK," added FSA chief scientific adviser professor Guy Poppy.
"However, this does not mean more people are getting unwell, only that we estimate food is responsible for more existing cases than previously thought."
Improved sampling
The FSA's better understanding of norovirus was the result of sampling surveys focused on the five most common food-related transmission routes named above.
"Although the percentages may appear striking, the risk to consumers remains very low for most of these pathways," he stressed.
"For example, on average, an individual would only end up with norovirus once in every 15,000 portions of open-headed lettuce – that would take around 40 years. Oysters pose the highest risk per serving, with illness likely on average once in around 160 servings."
Based on these results, the FSA was "not changing our advice to consumers and businesses", Poppy added. "Instead this research reinforces the need for the highest standards of good personal and food hygiene practices in catering establishments and at home to avoid infection."