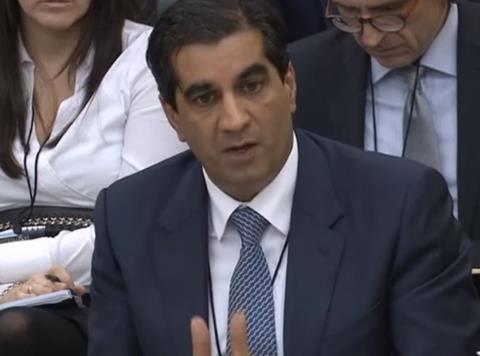 2 Sisters Food Group boss Ranjit Singh has offered to pay for full-time FSA inspectors at all its cutting plants for the next year in a bid to revive confidence in the under-fire poultry giant.
Giving evidence to the House of Commons Environment, Food and Rural Affairs select committee yesterday (25 October), 2 Sisters CEO Singh was contrite over the scandal which engulfed the company late last month when a Guardian/ITV exposé uncovered a series of alleged food safety violations at its West Bromwich factory, and promised to "put it [the situation] right".
In a sometimes testy encounter with the committee's MPs, Singh insisted 2 Sisters would learn from the scandal, and apologised to "this committee, consumers, our customers and colleagues", while reaffirming the company's commitment to food safety.
He also promised to "personally go see any retailer to ask them to take product from that factory" in a bid to restore confidence.
It was time to "build a better business", Singh said. "We don't want to buy more businesses; we want to concentrate on what we have got and do better. It's time to change and I have to change."
2 Sisters suspended operations at its West Bromwich cutting plant on 1 October in the wake of the scandal. Since then, it had initiated a new staff training regime at the plant – which would also be rolled out across the company – pledged to install more CCTV across its estate, and dismissed an individual linked to the exposé's claims, Singh confirmed.
2 Sisters action in wake of the scandal; at a glance
Dismissal of one member of staff implicated in allegations
Launch of internal inquiry run by forensic investigators
Installation of CCTV across 2SFG estate – with archive material retained for three months
Offer to pay for FSA inspectors at all cutting plants (a move not required by current regulations) for a year
Ramping up of staff training across the business
Ranjit Singh to personally visit all retail partners affected by scandal in order to restore confidence
He added that 2 Sisters was already in talks with the FSA over proposals for the company to fund inspectors at its cutting plants, insisting they would be welcome.
"We were very disappointed and upset to hear the allegations, and we absolutely apologise," Singh said. "This has not been in anybody's interest, the whole supply chain has suffered, and confidence [in the business] has been knocked."
During the 90-minute session, Singh, who was accompanied by 2 Sisters group technical director Chris Gilbert-Wood, said allegations centring around staff picking up product off the floor and placing it back on its production line "should not have happened", adding "someone made a mistake".
Referring to claims that staff had altered dates on labels, Singh conceded "it does not look right from a consumer point of view", but he insisted changing dates in the way depicted by the Guardian/ITV investigation was not in contravention of food safety rules.
"The only date which is important is the kill date," Singh said. "The pack date and cut date is not so important."
Gilbert-Wood added the practice of changing dates was because the cutting process was a "work in progress", while Singh noted that the person implicated in the claims which had been dismissed had declined to explain why he had changed dates on crates.
The entrepreneur appeared angry when accused by Labour MP Paul Flynn of being dishonest, cutting costs and having "endemic" poor standards across the business, but he repeatedly swerved questions over whether the company had actually breached food safety regulations, stating at one point that 2 Sisters was "working with the FSA".
However, he was at pains to reassure the committee that "we will continue to improve, food safety is highest on our agenda, and the food we produce is safe", before inviting committee members to visit his factory.
"We're not too big to change," he added. "This experience has been something I'm not used to, and I don't want to be here again."
'Mind boggling'
Earlier in the session, the FSA, BRC Global Standards, Red Tractor and the British Poultry Council all faced criticism from the Committee over how the scandal emerged.
Committee chairman Neil Parish was incredulous that information from the myriad audits undertaken by retailers, trade bodies and regulators were uncoordinated and went uncollated, and said it was "mind boggling" the FSA was not aware of issues at the plant.
"It sounds like you have wonderful processes but you don't seem to know what's happening on the ground," he said. "You're not telling us how this won't happen again."
Parish added the group would be called back in six months to see if any improvements had been made to food safety processes, "as we are really not satisfied with all of this".