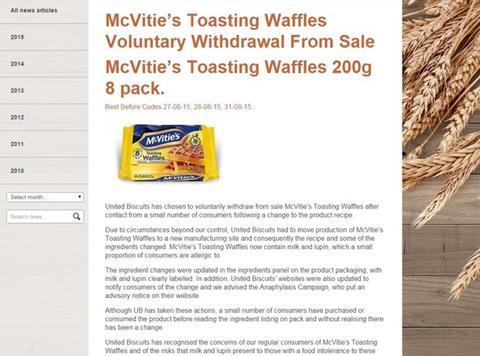 United Biscuits has withdrawn its McVitie's Toasting Waffles after failing to flag up a recipe change on the front of packs.
The supplier altered the recipe after switching to a different manufacturing site, and the waffles now contain milk and lupin which can cause allergic reactions in some consumers.
UB stated the changes in an updated ingredients panel on pack, flagged up the change on its websites and notified the Anaphylaxis Campaign, who put an advisory notice on their website. Despite these actions, a "small number of consumers" purchased or consumed the product without realising there had been a change, admitted the supplier.
"United Biscuits has recognised the concerns of our regular consumers of McVitie's Toasting Waffles and of the risks milk and lupin present to those with a food intolerance to these ingredients," said the company. "United Biscuits is a responsible food manufacturer and puts the safety and satisfaction of consumers above all other considerations. As such, United Biscuits has chosen to voluntarily remove McVitie's Toasting Waffles from sale."
The affected products are sold in a 200g eight-pack and have best-before dates of 27 August 2015, 28 August 2015 or 31 August 2015. UB added that the new recipe only posed a risk to consumers who were allergic to milk or lupin.
"We apologise to any regular consumers of McVitie's Toasting Waffles who have purchased or consumed the product without noticing the change to the ingredient listing and for any concern this may have caused.", it added.
The Food Standards Agency say it would be good practice for any food manufacturers who choose to change their ingredients to indicate this on the front of the packaging to alert allergic consumers of the changes.
"The FSA would also like to remind consumers with allergies and intolerances to make sure they always check the labelling to ensure they avoid foods that could make them ill," it added.