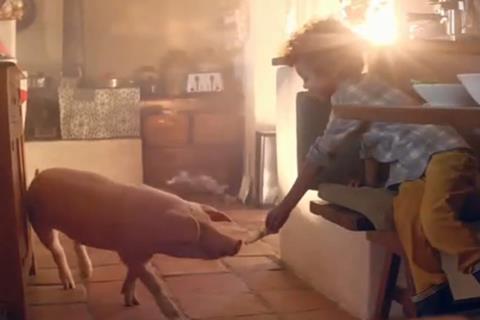 The National Pig Association has lodged a formal complaint with the Advertising Standards Authority over an Amazon cinema advert, which it said "encourages an illegal act".
The ad for the Amazon Echo Dot featured a small boy scraping food from his plate for a pig to eat.
But in a complaint to the ASA, NPA chief executive Zoe Davies warned the action constituted "swill feeding", which became illegal in the UK in 2001 following the devastating foot and mouth outbreak, led to the death of millions of farm animals and cost the UK economy £12bn.
The UK was currently on high alert for African swine fever, which, like foot and mouth, can be spread via infected meat, Davies said.
Because of its big budget, the ad would be seen by a wide audience, she added, and would "undermine" efforts to educate the public about the illegality and risk of feeding kitchen scraps to pigs.
"We do not have the disease in the UK and we are working really hard with other industry groups and the government to try and keep it out by attempting to educate the public about the illegality and the risk of feeding kitchen scraps to pigs," Davies said, as she called on the ASA to prevent it from being shown.
"ASF survives for a long time in meat and has been spreading from country to country as people inadvertently take meat from affected countries and allow pigs to gain access to it. We also have a large smallholder and pet pig community in the UK and we know from studies that feeding kitchen scraps, despite being illegal, is still practised, so the risk is already present."
Amazon declined to comment on the complaint.