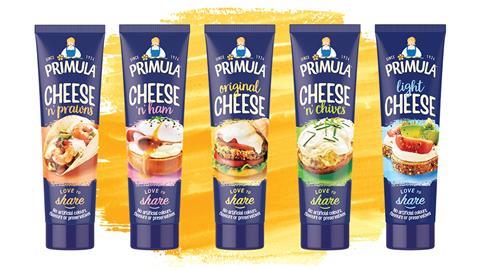 Cheese spreads brand Primula has issued a precautionary recall of its entire range over fears its products may have been contaminated with clostridium botulinum.
The contamination was due to a production fault, said the Kavli-owned brand, with a Primula product found during routine testing to contain a source of the bacteria that causes botulism.
As a result, the brand has recalled batches of its chilled 150g range with best before dates from 25 December to 28 January; and its ambient 100g cheese tubes with best before dates from 30 October to 10 December.
Primula said investigations into the source of the contamination were ongoing, while it was also liaising with environmental health officers and the FSA.
"We have been making great-quality cheese for almost 100 years," the brand said. "Our customers' health and safety is our number one priority and therefore, as a precaution, we have stopped all product distribution."
Primula had also instructed retailers to remove tubes from shelves with immediate effect, with customers also advised not to eat any Primula cheese tubes already purchased, and to return them to stores in exchange for a full refund.
"We would also like to apologise to those who won't be able to get their hands on our cheese for a short period of time while we work hard to resolve the issue," it added.
Primula sells its products across the big four supermarkets, in addition to independent retailers. It posted value sales of £17.8m last year [Nielsen/The Grocer Top Products Survey, 52 w/e 7 September], up 9.7% year on year.