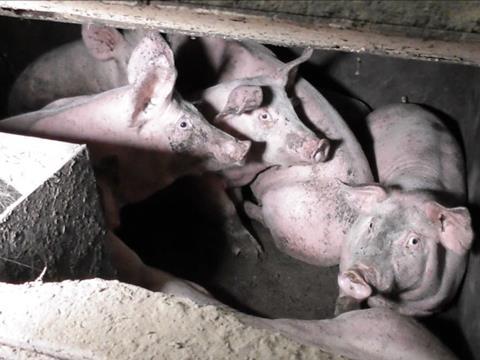 The robustness of Red Tractor's standards is in the spotlight after a Times investigation uncovered shocking examples of poor animal welfare at one of its member farms, and revealed less than 1% of its audits were unannounced.
Red Tractor told The Times it had expelled one of its member pork farms after the newspaper and vegan pressure group Animal Equality obtained covert footage of workers abusing piglets at Bedfordshire-based Rosebury Farm.
A subsequent unannounced visit to the farm last week revealed several additional breaches of Red Tractor standards.
The farm, which supplies major retailers via Cheale Meats, had been inspected and approved by Red Tractor auditors in July. But undercover filming across three months – including the inspection period – depicted "inhumane" conditions at the farm, prompting criticism of Red Tractor's practice of announcing inspections in advance.
During filming, a farm worker was caught swinging piglets against a wall by their legs, while "dozens" of dead piglets littered the floor of the farrowing sheds, with live animals trapped alongside the dead.
Larger pigs lived in cramped conditions atop of one another and those headed to the slaughterhouse were seen being shocked with an electric prod to usher them on to trucks, in violation of the Welfare of Animals (Transport) Order 1997, said Animal Equality.
The Times report also revealed just 50 of Red Tractor's 60,000 annual inspections carried out each year were unannounced, equal to 0.08% of audits.
Red Tractor had not replied to The Grocer's request for comment at the time of publication, but told The Times the scheme compared "extremely favourably" when benchmarked against other global schemes.
It follows criticism over the lack of unannounced inspections in meat plants by the Environment, Food and Rural Affairs Committee in the wake of the 2 Sisters scandal last year.
The Efra Committee said assurance schemes should treat the events at 2 Sisters' West Bromwich processing plant as a 'wake-up call' in its report into the scandal in November last year.
It also condemned the ability of suppliers to opt out of unannounced inspections and called on assurance schemes Red Tractor (run by Assured Food Standards), and BRC Global Standards to close loopholes in their accreditation schemes, such as the 30-minute warning Red Tractor offered ahead of even unannounced checks.
Responding to The Times report, Compassion in World Farming's chief policy advisor Peter Stevenson said Red Tractor should tighten its regulations and was "not a welfare assurance scheme".
It guaranteed "little more than compliance with minimum government guidelines", Stevenson added.
"Minimum legislation often falls short of what we see as acceptable in terms of welfare standards, allowing for some of the worst farming practices. If Red Tractor wants to be taken seriously it must substantially strengthen its animal welfare standards."