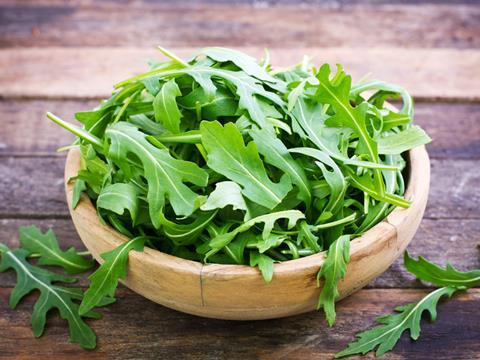 A large outbreak of E.coli that has so far affected 109 people in the UK - 45 of whom had to be hospitalised and one of whom has died - is likely to be linked to salad leaves, public health officials have said.
Public Health England (PHE), which is investigating the cases, said several of the people who fell ill ate mixed salad leaves, including rocket leaves, before they became sick. This suggested a link, though it added the source of the outbreak had not yet been established definitively at this stage.
A national outbreak control team has been put together to investigate the outbreak and determine its source. Of the 109 cases identified so far, 102 were in England, with the South West especially affected; six were in Wales and one in Scotland.
Dr Isabel Oliver, director of PHE's field epidemiology service, said: "Sadly, one of the individuals with probable E.coli O157 infection has died, but it is not currently known to what extent E.coli O157 caused or contributed to the death. At least 45 people are known to have been hospitalised, but the majority of these are now discharged and are recovering at home."
No wholesaler, supplier, retailer or foodservice outlet had been confirmed as the source at this stage, Oliver added.
So far, no company has had to issue a product recall through the Food Standards Agency. However, the FSA said catering supply chains were a particular focus of investigations. "We are currently investigating salad supply chains linked to catering establishments where cases ate prior to being ill," a spokeswoman said.
The British Leafy Salads Association said: "The initial investigation centered on the Bristol and Bath region and the BLSA understands that until last weekend all cases were isolated to this area. Further cases have been subsequently been identified in other parts of England and in Wales, Scotland and the Channel Islands. The majority of confirmed cases, however, remain in the South West of England.
"Our members operate to the highest technical and food safety standards and apply rigorous safeguards throughout the supply chain. While the current outbreak appears to be an isolated one, our members work to a continuous programme to monitor micro testing results from irrigation water, harvesters, raw material and environmental swabs.
"Leafy salads have an excellent safety record in the UK. At a time when the government and health professionals are all urging us to eat more fresh fruit and vegetables as part of a healthy balanced diet, salads are a convenient, easy and cost effective way for consumers to help achieve their five a day.
While investigations continue, consumers are urged to use proper food and hand hygiene when preparing salads. This included removing any loose soil and thoroughly washing salads to be eaten raw, unless products are specifically labelled 'ready to eat', PHE said. Hands should be thoroughly washed before handling food.
"These measures may reduce the risk of infection from any E.coli contaminated vegetables, fruit and salad but will not eliminate any risk of infection completely," PHE said.
The strain of E.coli involved in the outbreak is E.coli O157, which is found in the gut and faeces of animals. It can cause bloody diarrhoea, severe stomach pain and kidney failure.
The FSA spokeswoman said: "The FSA is working closely with PHE and local authorities to investigate an outbreak of E.coli O157. The outbreak has been linked to eating mixed salad leaves, including rocket leaves, however a specific food source has not been confirmed at this stage. As a precaution, the FSA is reminding people of the importance of good hand and food hygiene practices. All vegetables, including salads, intended to be eaten raw should be thoroughly washed unless they are specifically labelled 'ready to eat'. Investigations are on-going."
Previous cases
This is not the first time salad has been linked to an E.coli outbreak.
In 2013, Sainsbury's recalled several bagged salad lines as a precaution after a link to E.coli 0157 was suggested, though it said at the time tests had not found any actual contamination.
In 2011, a major E.coli outbreak on the Continent – mainly in Germany – that left more than 50 people dead was initially linked to salad vegetables such as cucumbers and led to huge amounts of produce being destroyed. However, authorities subsequently traced the outbreak to sprouted foods.