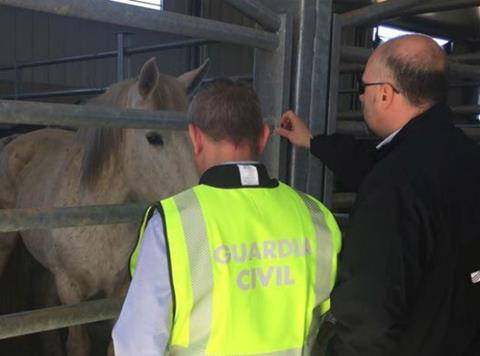 Europol and Spain's Guardia Civil have foiled a major food crime plot - linked to 2013's Horsegate scandal - which saw horsemeat unfit for human consumption traded across Europe.

Some 66 members of an organised crime group have been arrested and charged with crimes including animal abuse, document forgery, perverting the course of justice, crimes against public health, money laundering and being part of a criminal organisation, Europol said in a statement published on 16 July.
Operation Gazel, launched by Guardia Civil's environmental protection service last summer, detected a scam where the gang allegedly took horses that were in bad shape, too old or deemed "not suitable for consumption" and passed their meat off as edible.
The animals were sourced from Portugal and several places in northern Spain. Their meat was processed in a specific facility and once slaughtered, the animals were sent to Belgium – which is one of the biggest horsemeat exporters in the European Union – where their IDs were forged and sold on as legitimate horsemeat around the world.
Authorities eventually identified a Dutch meat trader "known in the horsemeat world" as the ringleader.
Investigators said the Spanish element of the operation made up a small part of a pan-European structure controlled by the Dutch trader, who was eventually arrested in Belgium. Separate actions were simultaneously carried out in France, Portugal, Italy, Romania, Switzerland and the UK.
The profits of the operation was worth an estimated €20m a year to the criminal group, Guardia Civil said. The group are now awaiting trial.