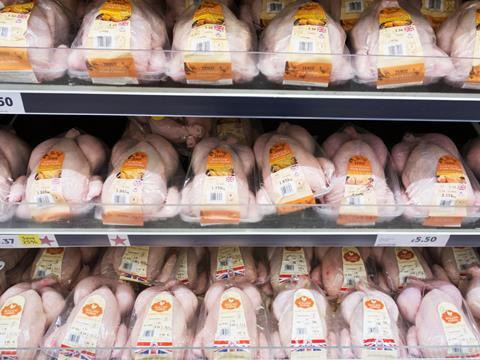 Instances of campylobacter in chicken sold by the UK's top nine supermarkets have fallen again, according to the FSA, with the percentage of chickens carrying the highest level of contamination now below 5%.

Quarterly test results undertaken by the supermarkets revealed the percentage of chickens carrying the highest level of contamination of the bug (over 1,000 colony-forming units per gram) had fallen from an average of 5.14% between July and September 2017 to 4.5% between October and December.

All supermarkets apart from Asda (7.2%) posted average campylobacter contamination results below the FSA's target of 7%. Morrisons (0.7%), The Co-op (0.96%), Lidl and Waitrose (both 2%) achieved the lowest instances of high-level contamination.

However, the percentage of chicken contaminated with low levels of the bug (less than 10 cfu/g) rose from 44% between July and September to 52.7%.
The latest campylobacter results were the second to be individually collated and reported by the supermarkets on their own websites after the FSA announced changes to its quarterly campylobacter survey last September - with a switch in emphasis to smaller retailers and processors.

The results showed a continuing downward trend in the highest levels of contamination in supermarket chicken, the FSA said, and were consistent with previous research which showed a lower level of contamination during the cooler months of the year.

"We will continue to monitor the results and procedures of the major retailers and encourage them to maintain the significant progress made so far," said FSA director of policy and science Michael Wright, as he welcomed the results.

"We would like to thank the British Retail Consortium and the retailers for continuing to take the issue of campylobacter seriously and for working together to coordinate the publication of their results. We are actively working across smaller poultry businesses so they can also contribute to reducing campylobacter levels."

The news comes after research by the FSA published in January found evidence of "high levels" of antibiotic-resistant campylobacter in supermarket chicken. The report - A Microbiological Survey of Campylobacter Contamination in Fresh Whole UK Produced Chilled Chickens at Retail Sale (2014-15) - drew on a subset of 548 campylobacter isolates from the FSA's then-regular testing of chicken for the bug.

Of the 548 samples of chicken with campylobacter, some 48% with the campylobacter jejuni bacteria were found to contain resistance to critically important fluoroquinolone antibiotic ciprofloxacin, with 54% of samples with the campylobacter coli strain affected.