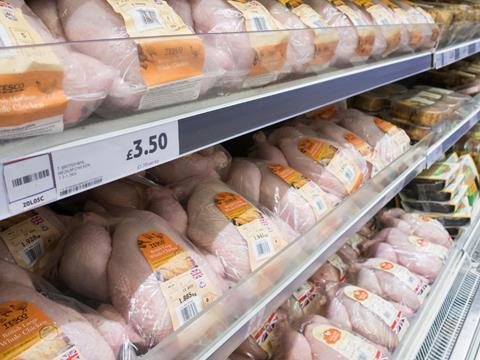 More than a third of Brits say they will change their chicken buying habits after the food safety scandal that enveloped 2 Sisters Food Group last week, exclusive research for The Grocer can reveal.

An online poll of 1,019 UK adults by research agency Lightspeed this week found 37% of consumers want to alter their buying habits after an ITV/Guardian investigation uncovered food safety breaches at a 2 Sisters poultry plant in West Bromwich.

When asked what action they were most likely to take, 14% of respondents said they would switch to buying chicken from a butcher, 8% said they would switch to buying organic or free-range chicken, 9% said the scandal would lead them to buy less chicken, and 6% said they would stop buying chicken altogether. Meanwhile, 38% said they would not change their habits.

Tesco emerged as the retailer consumers think is most affected by the scandal, being named by 18%, with M&S second at 11%. Overall, 59% of respondents were aware of the scandal.

The exposé prompted the FSA, Tesco, Sainsbury's, M&S, Aldi and Lidl to all launch independent investigations. The FSA said inspectors had found "no evidence of breaches", while Tesco CEO Dave Lewis said this week it had not seen any changes in shopper buying patterns in the wake of the scandal.

After initially claiming it could not comment directly, 2 Sisters said on Monday it was "shocked and distressed" by the claims, and had temporarily suspended its operations at West Bromwich.

Having reviewed the evidence, it found "some isolated instances of non-compliance with our own quality management systems", and launched a programme to retrain "all colleagues, including management in all food safety and quality management systems", it said in a statement.
2 Sisters chief operating officer Martyn Fletcher subsequently told investors on Tuesday that the company did not believe it had "any major compliance issues in our organisation", The Guardian reported.
"It's isolated to this particular video footage and we have, in investigating the site, found some other areas of concern at that site," he said.
"We will be using the incident as a wake-up call and will be rolling out those learnings and retraining [staff] right across the estate."