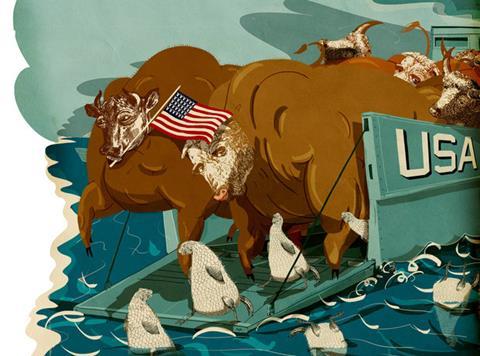 Could we see an influx of pumped-up hormone-treated US meat in the UK after Brexit? We might not see muscle-bound cattle arriving on a landing craft as we've illustrated above, but the prospect of an increase in US meat and poultry exports to the UK (regardless of their method of production) is set to be a major point of discussion during any post-Brexit trade deal negotiations with the States.
We all remember that touching moment when the leader of the free world and the MP for Maidenhead held hands on that romantic Washington rendezvous in January, before The Donald pledged to forge a new trade deal with the UK and gushed "Brexit is going to be a wonderful thing for your country".
Well, if US farming union the American Farm Bureau Federation has its way, such a trade deal will depend on Britain opening its borders to many US foods currently banned under EU law, including beef from cattle injected with growth hormones and chicken washed in chlorine, as well as GM foods.
It's a scenario as welcome as a leg of lamb in a vegan café for many in the UK meat and poultry sectors. And crucially, as an exclusive poll by Harris Interactive for our meat, fish & poultry special this week shows, British consumers aren't keen on the idea either.
While America permeates our society in many different guises, it's clear food is a potential red line, with about three-quarters of Brits stating they would reject American imports of hormone-treated beef, chlorine-washed poultry or GM grain.
'Frankenfoods', of course, are not the only potential hot potato in upcoming post-Brexit negotiations. In a special report, we investigate what lies ahead for UK fishing rights after the Common Fisheries Policy, and ask whether we can, as Nigel Farage and his pals suggest, "take back control of our fisheries".
(Clue: it may not be quite as simple as that, as this noisy clash about fishing rights this week shows.)
We also look at whether Brexit will end the practice of using (often lower quality) imported eggs in food manufacturing, and put the spotlight on premium sausages – bucking the general trend of decline in the category – to see how they shrugged off the bad publicity of that WHO report linking bangers to cancer.
So, big questions, and some difficult and complex answers. Make sure you don't miss our Meat, Fish & Poultry special this weekend, and available online now for Grocer members.