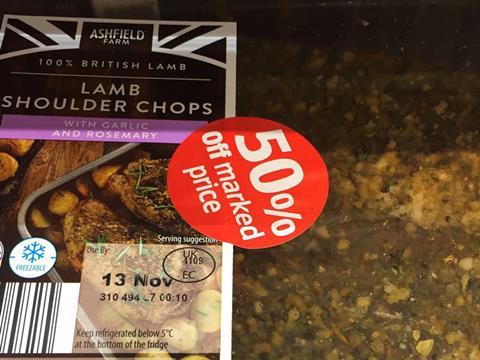 Aldi has begun marking down the price of its products as they approach the end of their shelf life in a bid to slash its food waste.

Unlike other retailers who reduce the price by small or varying amounts, Aldi is knocking a blanket 50% off products. The discounter confirmed this week that this was part of a new crackdown on waste.

"To reduce food waste, we are trialling price reduction stickers in a small number of stores on fresh products approaching their sell-by or use-by date," said an Aldi spokesman.

The discounter's smallest site in Tooting, South-West London, is one of the stores involved in the trial. This week it had slapped '50% off marked price' stickers on a range of fresh products from Brussels sprouts to lamb chops.

Aldi supports The Grocer's Waste Not Want Not campaign. It rolled out a process for diverting surplus ambient stock to FareShare regional centres earlier this year, and plans to extend this to include fresh and chilled food.

This year Aldi also reached the milestone of providing one million meals' worth of surplus stock to FareShare.