Wrap is hoping Nadiya Hussain will have the 'Attenborough effect' for food waste in homes
Former Great British Bake Off winner Nadiya Hussain may not have quite the same clout as David Attenborough, but the industry is hoping she will help give household food waste its Blue Planet moment.
Hussain was this week unveiled as the star to front the first Food Waste Action Week, which from 1 to 7 March will seek to tackle the "staggering" 6.6 million tonnes of food waste a year coming from UK homes.
As new research from Wrap shows the pandemic has already had a transformative impact – with a sharp drop in the amount of food consumers are binning – the initiative will look to build on that progress. It will emphasise the link between food waste and climate change, in a bid to capture public imagination in the same way as the war on plastic.
But what chance does the campaign have of being a success? And is it simply deflecting blame for the industry's lack of progress on food waste?
The recruitment of Hussain, who has written several books and become an influential figure since scooping the 2015 Bake Off prize, is the latest attempt by Wrap to reinvent its battle on household food waste.
CEO Marcus Gover admits it has more than one eye on the huge impact made by Attenborough with his campaigns on climate change and plastic. "David Attenborough has inspired not just the nation but the world," says Gover. "He's been a huge factor in making people aware about the global impact of climate change and plastic.
"Unfortunately, our research shows people have been much slower in making the link between food waste and climate change. We hope having Nadiya on board will prove to be a huge help to us in making that connection."
Wrap report
To coincide with next week's activity, Wrap has released the full research, which hammers home that point. Its survey shows that despite 30% of global greenhouse gas emissions originating from food production – more than all commercial flights combined – there is still a huge disconnect in public attitudes.
According to its findings, more than 80% of UK citizens say they are concerned about climate change, but just 32% see a clear link between it and food waste. That's far lower than the proportion who see a link to aviation (53%) and plastic packaging (also 53%).
Food Waste Action Week, which Wrap hopes will become anchored in the annual agenda, will seek to ram home the link with food waste. It will publicise figures such as 4.4 million potatoes going to waste daily in UK homes, which has a carbon impact that would take the planting of 5.4 million trees a year to offset.
It's a good time to make this case. Because the pandemic has, temporarily at least, transformed attitudes to food waste. Gover wants to strike now – before lockdown ends and increases the risk of a return to bad old habits.
"It has been fascinating to see the change in attitudes since the first lockdown," he says. "What was really interesting is we did not see panic-buying result in lots more food waste in the home. Instead, people have adapted their behaviour and seem to value food more.
"It's led to a sharp reduction in the levels of food people are wasting. Although that effect was greater in the first lockdown, the level is still 22% down on pre-lockdown levels.
"We believe people have changed their attitude to food waste in the pandemic and we have a chance now to capitalise on that," he adds. "With COP26 on the horizon, we have a chance to establish that link with climate change."
Wrap denies any suggestion this means its Love Food Hate Waste campaign, which launched in the UK in 2007, has run out of steam. Wrap says overall food waste volumes have been slashed by over 30% each year since Love Food Hate Waste was born.
In fact, Gover claims the campaign has been rejuvenated since an alarming report in January 2017, which suggested the war on household food waste was being lost.
The report under the industry's flagship Courtauld Commitment, which aimed to reduce household food waste by 5% over a three-year period, humiliatingly revealed there had been an estimated 300,000-tonne increase in household waste over that time.
"That encouraged us to completely re-evaluate how we went about it," says Gover. "We became much more focused, rather than just monitoring the figures, on getting that message across to the public about planning food, how they could reduce waste and change behaviours with really practical steps.
"Our launch next week gives us a great chance to really get those messages across."
Hussain will be helped in her mission by a who's who of suppliers and retailers backing the campaign, including Aldi, Asda, Co-op, M&S, Waitrose and Nestlé, all of whom have pledged to amplify the Love Food Hate Waste messages during the week on their social media channels.
Consumer reaction
But is there a danger that consumers will see this as the industry once again trying to palm off its problems on them?
The facts show 70% of food waste comes from the home, compared with 16% in manufacturing and just 3% in retail.
Yet 100,000 tonnes of readily available and edible food from the UK's retail and food manufacturing sector continues to be wasted. That's the equivalent of 250 million meals going uneaten, and campaigners claim it hardly sets the right example.
"We're supportive of the week and hope it will make a difference," says Jessica Sinclair Taylor, head of policy at campaign group Feedback.
"It's true that food hasn't had much of a look-in in government policy, so it will be good to change that. But we should argue that the tone setting has to come from the top. Some companies have been making good progress in tackling food waste but it's inconsistent.
"With such a low profile and lack of action on these regulations, it's hardly a surprise that the public don't know enough about food waste and its link with climate change."
But if there were any companies thinking that the focus on food waste will now switch irreversibly to households, they could be in for a rude awakening.
The Grocer understands, after being postponed because of the pandemic, the government has now set the wheels in motion for the much-delayed introduction of mandatory reporting of food waste levels for companies, with a consultation due to begin this year.
With that and the Glasgow summit on the horizon, food waste may yet get its time in the sun, Nadiya or not.
How household food waste changed in different stages of lockdown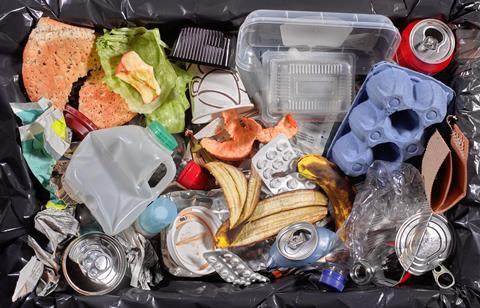 First lockdown (April 2020):
63% of UK citizens report shopping less often, alongside a significant increase in the amount of groceries purchased.
Households report more pre-shop planning, better in-home food storage (e.g. fridge management, freezing) and creative approaches to cooking (e.g. batch cooking, using leftovers).
Adoption of new food management behaviours leads to a sharp decrease in reported levels of food waste – from 24.1% in November 2019 to 13.7% (a fall of 43%).
Lockdown one eases (June 2020):
Behaviours remain changed, with 70% wanting to maintain at least some of their lockdown habits as restrictions ease.
However, results point to the potential for some drop-off in behaviours. The main barriers to maintaining them are an easing of concerns around going food shopping (cited by 42% of respondents) and a lack of time for planning as 'normal' life returns (26%).
Level of food waste increases from 13.7% in April to 17.9%.
Schools go back (September 2020):
Levels of food waste, having increased in June to 17.9%, stabilise in September at 17.5%.
Lockdown two (November):
Levels of reported food waste inch up, reaching 18.7% (albeit still 22% below November 2019).
Groups reporting higher levels of food waste at this time include 18 to 34-year-olds and those with kids aged 0 to 10.
Source: Wrap