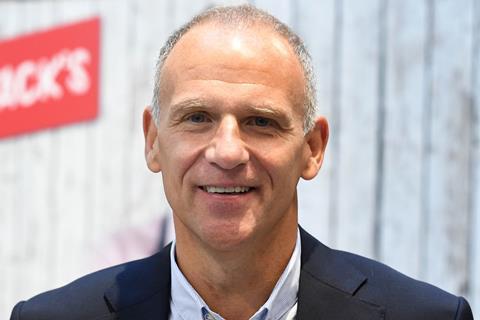 Tesco CEO Dave Lewis has called for the government to impose mandatory food waste reporting on the industry. New figures have revealed fewer than a third of companies signed up to a landmark programme to tackle the crisis are reporting their data.

Some 156 of the biggest food companies backed a pledge launched a year ago by the IGD and Wrap to 'Target, Measure and Act' on food waste. But a Wrap update today shows just over 40 have publicly reported their food waste figures.

All but a handful of those have been part of Tesco's initiative with its suppliers, while the majority of businesses signed up to the roadmap have failed to report.

Meanwhile, 80 companies only shared their data with Wrap on the grounds it was kept confidential.

Lewis, who is chairing the Champions 12.3 group as part of UN climate talks in New York today, said the lack of transparency among retailers and suppliers could not be allowed to continue. Regulation was vital if the UN was to hit its target of halving food waste by 2030, he added.

Wrap's Food Waste Reduction Roadmap was intended to step-change transparency in food waste reporting, with the move following The Grocer's Waste Not Want Not Campaign, which urges companies to publish their food waste figures.
Wrap has also fallen short of its target of 125 major food companies taking action on food waste, though it said the 121 businesses that had provided evidence of implementing the roadmap's aims accounted for a combined turnover of almost £220bn.

Estimates by the body suggest those companies are responsible for around 1.1 million tonnes of food waste each year, a third of the total UK post-farmgate supply chain food waste.

The report says: 'Consistent with Roadmap best practice, over 40 businesses have publicly reported food surplus and food waste in 2019, the majority of which are part of the call for action by Champions 12.3 chair and Tesco CEO Dave Lewis.

'This compares to 30 businesses in 2018, and only a handful prior to that.'

Wrap CEO Marcus Gover described the action taken to date as a "considerable achievement" but added: "There is much more to do, and our ambition is to have all major food businesses implementing Target, Measure, Act by the end of 2026."

The industry has faced long-standing criticism from campaigners for "hiding behind" industry-wide estimates on food waste.

IGD CEO Susan Barratt added the industry had "made great strides" but she added: "We are not complacent. Reducing food waste is a long-term journey and we recognise there is more we can, and will, be doing in the future."

However, Lewis said there could be no excuse for further delays in companies' publishing food waste figures.

"The case for reducing food waste is indisputable," he said.

"One third of the world's food is wasted whilst one in nine people go hungry. If food loss and waste were a country, it would be the third-largest emitter of greenhouse gases on the planet. We cannot delay, we must act now.

"A lot of food companies have pledged to tackle food waste, but without transparency will not be able to judge if they are delivering on their commitment. Publishing food waste data is vital and must be mandatory if the UK is to achieve SDG 12.3 to halve food waste by 2030. The government has indicated it will introduce mandatory reporting and we call on them to do this urgently."

Tesco has so far persuaded 27 of its own-brand suppliers and 11 branded suppliers to start publishing their figures.

Today it announced Tesco Lotus and Malaysia had published its data for the first time, as well as 12 own brand suppliers from the Republic of Ireland, representing more than a third of fresh food sales.

In May, Tesco, which became the first supermarket to begin publishing its food waste figures in 2013, claimed there were "crucial" gaps in the government's strategy to tackle food waste, warning moves announced by former Defra secretary Michael Gove risked being toothless because they failed to urge companies to publish their food waste data.

As well as Lewis' call, the event in New York today will also see the World Resources Institute (WRI) launch a new global initiative by many of the world's largest food retailers and suppliers.

The "10x20x30" initiative includes companies such as Tesco, Walmart, Metro Group and Kroger, with 10 of the world's biggest food retailers and providers promising to engage with 20 of their priority suppliers to aim to halve their rates of food loss and waste by 2030.