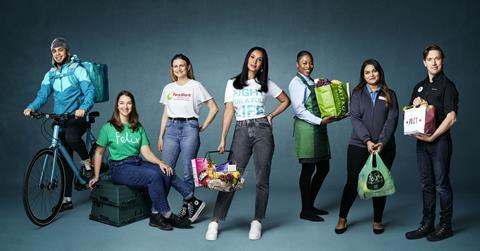 Deliveroo and its partner grocers and outlets have launched a campaign to deliver one million meals to those in need.
The 'Full Life' initiative will see Deliveroo riders pick up food that would otherwise go to waste from Co-op, Waitrose and Pret a Manger and deliver it to Felix Project, FareShare and The Pret Foundation for onward distribution to hundreds of charities.
The million meal commitment is "just the beginning", Deliveroo said, with further projects planned for later in the year. The courier company delivered one million meals to NHS workers through the pandemic.
"At Deliveroo, we want to use our unique network for good and play our part in supporting the communities in which we work. We don't just want to ride through our streets – we want to support them and play an active part within neighbourhoods across the UK," said Deliveroo CEO and founder Will Shu.
"This is just the start," he added.
Pret a Manger with Deliveroo will distribute around half a million of the meals – including freshly made but unsold sandwiches, salads and baguettes – to The Pret Foundation, which will redistribute them to charity partners such as St Mungos, Lookahead, Centrepoint and YMCA.
Co-op has its own food redistribution scheme – Food Share – which has delivered more than seven million meals to communities across the UK through the pandemic. However, "due to transportation challenges in the capital, many local groups are unable to collect the food that's made available" Co-op said. Deliveroo will collect surplus food six days a week from Co-op's London stores and take them to the Felix Project for its team to forward to community groups.
Waitrose will support the initiative through its existing relationship with FareShare, which it has been working with for the past four years.
The face of the campaign is presenter Maya Jama.
"Sadly, despite it being 2021, too many people across the country are facing serious hardship and don't have access to regular meals. I'm so fortunate to have a platform and a voice that will be heard, so I want to do what I can to raise awareness about how severe the food poverty crisis is here in the UK," Jama said.
A recent report by the Social Market Foundation found that 16% of children in the UK missed meals due to hardship during the pandemic, equating to more than 1.9 million children.
"It's a fight against hunger. We can all do so much more to ensure food equality across the country," Jama added.