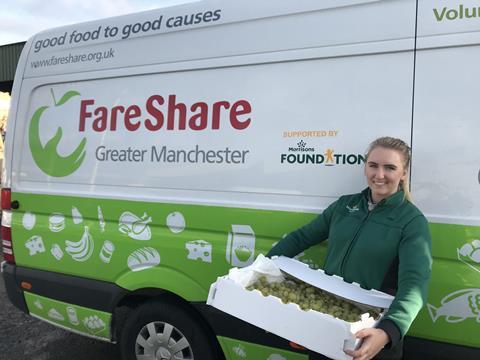 The UK's biggest food redistribution charity has reported a huge increase in the amount of food it receives from retailers and suppliers, in a major boost for The Grocer's Waste Not Want Not campaign.
In 2017/18 the amount of quality surplus food FareShare received from supermarkets, food manufacturers, processors and farmers increased by 25% to 16,992 tonnes.
It means the amount of food being sent to FareShare has more than doubled since The Grocer's campaign was launched in May 2016.
In the past year alone, FareShare said it had achieved 28% growth in the number of meals provided to charities it works with, to 36.7 million, and a 44% increase in the number of charities it supports, taking the figure to more than 7,700.
However, the charity warned more than 600 million meals' worth of good surplus food was still being wasted every year and said the UK had a long way to go to match the efforts of countries such as France.
"It's great to see the food industry working with us so we can redistribute their food surpluses to more frontline charities," said FareShare chief executive Lindsay Boswell. "The spotlight The Grocer has shone on the issue of good quality food going to waste as part of its Waste Not Want Not campaign has really helped to garner support from the food industry and encourage businesses to act."
But he added: "The alarm bell going off in our new statistics is that FareShare still only redistributes a tiny proportion - just 5% - of the available 270,000 tonnes of surplus food. There's shedloads of good food going to anaerobic digestion plants, being turned into animal feed or going to landfill.
"France manages to save 100,000 tonnes of surplus food from being wasted every year, to redistribute to people in need - so come on UK food industry, this is what you need to be doing too."
His comments come as the government responded to The Grocer's petition calling for additional funding to incentivise redistribution, saying it would "continue to explore" the issues raised in its upcoming Resources & Waste Strategy.