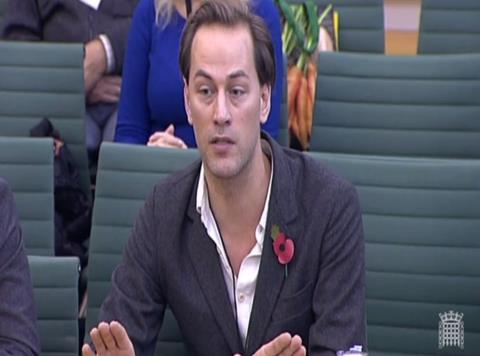 Figures that blame consumers for the majority of food wasted in the UK are "bogus", according to campaigner Tristram Stuart.

Addressing the Efra committee on food waste today, the founder of Feedback heavily criticised data that finds more than 50% of food waste takes place in the home, with only the minority occurring higher up the supply chain at either supermarkets or manufacturers.

"In the UK we did a global standard-leading study of household food waste. We forensically raked through the rubbish bins of 2000+ households, analysed what was edible and what wasn't. It was a groundbreaking study commissioned by Wrap," said Stuart at the first oral hearing of the select committee inquiry into food waste. "All of the food waste caused by households was captured inevitably because all your food waste goes into your bin.

"Now let's look at the industry side," he added. "No one has ever forensically looked into the bins of supermarkets. Ever. No one has done that for manufacturing, we rely on self-generated data, not audited in any way. No one has measured the waste of food on farms in the UK. No one thinks of including fish being wasted at sea or edible offal in slaughterhouses, and critically for a country that imports net by value more than half the food we eat, no one is including all the waste generated overseas."

Yet the statistic that seven million tonnes of food waste arises in the home, the biggest net contributor to total waste, was used to deflect accountability away from industry, added chef and journalist Hugh Fearnley-Whittingstall.

"It suggests most of our efforts should go into telling people at home to be less wasteful in fridges and larders," he said. "If we could establish formally that somewhat less than 50% was at home it would be immediately obvious we should focus on the supply chain instead."

During the two-hour session, the pair also called for the introduction of mandatory reporting of corporate food waste data, following in the steps voluntarily taken by Tesco and Sainsbury's, the relaxation of cosmetic specifications, and a further empowering of the Groceries Code Adjudicator to ensure small suppliers are not left liable for wasted produce as a result of cancelled supermarket orders.

They also criticised the 'whatever, whenever' culture of availability in UK supermarkets. "The culture is to a large extent dictated by supermarkets and the way they market food to us," said Fearnley-Whittingstall "They market food as cheap, inexhaustible, and if we're lucky to have more than we need, that there is no cost. That is a culture that's destined to produce waste."

The inquiry is expected to hear further evidence from suppliers and redistribution experts in later hearings with its findings to be published in a report in early 2017.