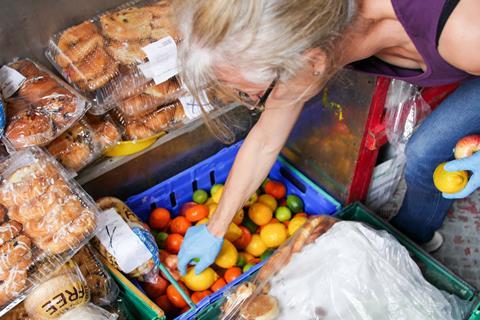 Food redistribution groups have faced increasing challenges getting surplus food to those in need as the cost of living crisis pushes demand to higher levels than during the pandemic.
As demand for surplus food skyrockets, some charitable organisations have had to decline requests from their community groups, while others have seen the prevailing issue of driver shortages continue to affect their ability to distribute food.
Food redistribution group The Bread and Butter Thing (TBBT), which operates about 60 hubs across the country, has said that demand from local families has grown so much in recent months that it has had to turn down requests as it did not have the logistical capacity to fulfil them.
"The cost of living crisis is fuelling need in a serious way," the organisation said, adding that it had noticed an uptick in subscription requests since the government scrapped a temporary extra £20-a-week to Universal Credit, along with other pandemic support measures, last October.
Prior to October 2020, TBBT had about 700 new people subscribing to its network per month. Following the financial boost removal, those numbers doubled.
Last month, it saw just over 1,500 new subscriptions. It said the biggest issue was that it didn't have enough van space to meet the demand.
Some of its hubs are so oversubscribed, members are only getting deliveries once a fortnight or even once a month in some cases. In order to meet increasing demand, TBBT has plans to open 20 new hubs in the coming months, including four next month.
Around 98% of food banks or food provision organisations have seen an increase in demand for services since the start of the year as the cost-of-living crisis has deepened, according to a recent survey by Neighbourly, the network partnering with the likes of Sainsbury's, M&S and Getir.
Meanwhile, London's food charity network The Felix Project said a continued lack of volunteer drivers had also compromised the ability to meet the rising need for food from charity partners due to the cost of living crisis.
"We are delivering nutritionally balanced food and we have increased capacity – but we need to be delivering even more," a spokeswoman said.
"Without our food, people turn to less healthy options or go without. We fear this cost of living crisis will lead to a long-term health crisis."
The UK's biggest food redistribution network, FareShare, echoed similar concerns: "We are dealing with a new reality of much higher demand.
"Transport availability is a problem so we are looking to procure our own vehicles to supplement the support we get from the logistics industry."
The group noted that the closure of school breakfast clubs and after-school clubs over Easter also boosted demand. Over the Easter weekend alone, from 15 to 18 April, its warehouses delivered food equivalent to 288,000 meals.
During the two-week period of the Easter school holidays, The Felix Project rescued and delivered 3,400 tonnes of surplus food – equivalent to 1.1 million meals.
The organisation has also seen an uptick in demand for Felix's Cooked Kitchen Meals as "a lot of parents are living in temporary accommodation and hostels" with no cooking facilities. It is currently working with local boroughs across the capital to target schools and holiday programmes to sign up for Felix food services.
Neighbourly's March survey, which comprised answers from 730 food banks and organisations redistributing food, also estimated that around one third of people using these services in recent months were new to them.
These organisations are expecting further rises in demand of around 35% in the next three months as the living cost squeeze intensifies.
"Through our work with local charities and good causes and our latest community survey, we can see how the cost of living crisis is having a severe impact on communities and causing steep rises in demand for already stretched front-line services," a Neighbourly spokeswoman said.
"We expect this to only increase in the coming months as the effects of rising fuel and food prices hit."
Last week, inflation in the UK hit 7% – the highest in three decades – with economists expecting it to reach 9% this month amid record increases in petrol and energy bills and weekly shop prices.