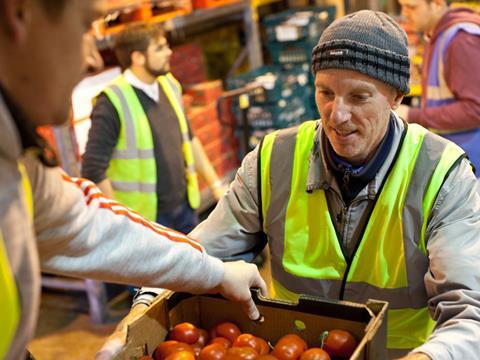 Food waste redistribution from retailers, manufacturers and foodservice companies has soared by 50% in the past two years, as the industry responds to the food waste crisis, according to new figures from Wrap.

The report shows all sectors of the food and drink industry have achieved major increases in the amount of surplus food redistributed to charitable and commercial organisations.

However, Wrap also revealed shocking figures showing the starting point had been even worse than thought, announcing it has recalculated its baseline for the amount of food being redistributed.

In 2016, Wrap estimated 47,000 tonnes was redistributed by the industry but it said today better and more transparent data suggested that figure was just 28,500 tonnes, nearly half as much as had been estimated.

Wrap's report also suggests at least 205,000 tonnes more per year could be redistributed if the industry raised its game further.

The report shows retailers have led the way, with the amount of surplus food redistributed rising from 5,583 tonnes in 2015, to 11,931 tonnes in 2017, a 114% rise.

Manufacturers achieved a 71% increase (from 4,539 tonnes to 7,745 tonnes).

Wrap said The Grocer's Waste Not Want Not campaign, launched in May 2016, had been a major factor in the battle against waste, with special adviser Dr Andrew Parry describing it as "one of the longest-running and most effective campaigns."

But it said the report was a further call to action for the industry to step up its game. There was huge potential for more to be done, it added.
Wrap said the focus was now on finding ways to ramp up the contribution from comparatively untouched parts of the supply chain, including primary production, hospitality and foodservice. The Courtauld 2025 Agreement pledged that the industry would double the amount it redistributed by 2025, while other leading players, including Tesco, have called for the industry to go further.

Wrap's recalculation of the baseline, it said, was down to "both improvements to the research methodology, and to more robust and granular data from redistribution organisations".

"These figures show there has been a big response from the industry to the food waste crisis, even despite the recalculation of the baseline.

"However, the report also shows just how much needs to be done and the potential there is to increase the amount of food that is redistributed," said Parry.

"I think The Grocer's campaign has been very important in keeping the focus on this issue. It must be one of the longest-running and most effective campaigns there has ever been and it's very important that we keep the spotlight on this issue."

Retailer and supplier leaders pledged to do more to redistribute food waste.

Asda and FareShare announced they had donated 7.8 million meals to charities since their partnership started five years ago as they announced plans for a new back of store donation process that they said would provide a further 20,000 meals per store, per year, to charities.

Wrap also revealed today that eight charities and not-for-profit groups will receive grants from the government's £500,000 Food Waste Reduction Fund it administers via Wrap, to provide resources to ramp up their work.

FareShare chief executive Lindsay Boswell welcomed the move but said the report showed the government needed to do more to incentivise redistribution, especially with the figures giving a gloomier picture than before.

"FareShare believes the only way to reduce food waste in the supply chain is for the government to give food companies the same financial incentive to deliver good surplus food to food charities, as they do to take it to anaerobic digestion plants," he said. "Good edible food should not be turned into energy - it should be going to feed vulnerable people."