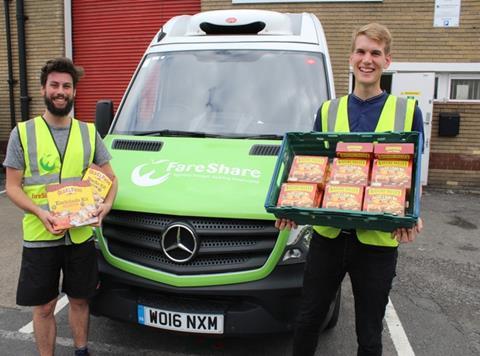 General Mills has become the first supplier to deliver surplus goods to FareShare's new regional centre in Ipswich, East Anglia.

The manufacturer delivered Old El Paso and Nature Valley products on 14 August as part of an ongoing partnership with the food redistribution charity.

Since 2013, General Mills has donated 100 tonnes of surplus food, allowing FareShare to distribute the equivalent of 250,000 meals among its network of community groups and frontline charities.

This year alone it has contributed 17 tonnes of stock to the charity, the equivalent of 40,500 meals.

"The work FareShare does in fighting hunger and combating food waste is incredible and we're committed to working with them to put our surplus goods to the best use possible," said General Mills UK head of external relations Jonathan Bennett.

"Having imbedded a monthly redistribution system with FareShare means more of our products can be used to feed vulnerable people than ever before."

FareShare CEO Lindsay Boswell added: "We're really excited to be opening our 21st regional centre, which will support charities and community groups across Suffolk, Norfolk, Essex and Cambridgeshire - all helped by the essential stock General Mills is supplying to get our new site up and running. General Mills has been a key partner, enabling us to provide food for thousands of meals for vulnerable people, and long may that help continue."

This follows Wrap's findings that the UK food industry wastes almost twp million tonnes of food a year, including at least 270,000 tonnes fit for human consumption, which could provide 650 million meals.

General Mills' other major brands include Häagen-Dazs, Betty Crocker, Green Giant and Yoplait.