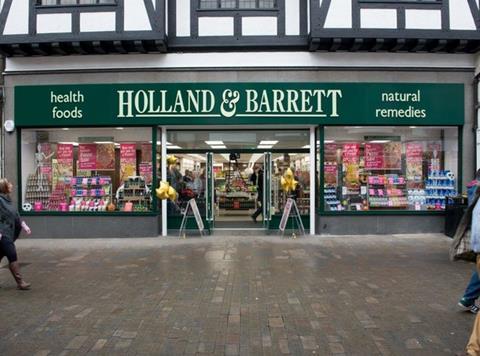 Holland & Barrett is hoping to eliminate food waste at its stores by rolling out a new initiative to sell items past their best before dates at significantly discounted prices.
The health food retailer is aiming to sell around 370,000 items each year with expired best before dates. It has installed a dedicated area in all 800 branches for customers to browse and purchase products such as flour, drinks, nuts, herbs, spices, chocolate and beauty products for as little as 5p.
The retailer confirmed it was striving to reduce its food waste by 100% through the Too Good to Waste scheme.
The move was initially tested at 25 branches last year, followed by around 175 more later in the year. The full rollout comes in response to increasing customer demand.
"It is estimated that the UK generates 41.1 million tonnes of commercial and industrial waste each year with landfill being the second most used waste treatment in the UK, said Ryan Lander, head of retail operations at Holland & Barrett. "The trial earlier has shown us that our customers are happy to buy long shelf-life food like lentils, nuts and honey which are a little beyond their best before date.
"It's really a win-win as it helps customers save money and goes a little way to helping save our planet at the same time."
Best before dates allow items to be sold, redistributed and consumed after the date on the packaging, provided they remain of acceptable quality.
The initiative follows several previous steps Holland & Barrett has taken over the past decade in a bid to become more environmentally conscious. It was the first UK retailer to ban plastic bags in 2010 and has conducted sustainability-led store refits at its Chelmsford, Essex and Farnham, Surrey shops this year.