From apps connecting surplus food with charities, to biodegradable best- before dates and even exotic flies, the ways in which tech is tackling waste are hugely diverse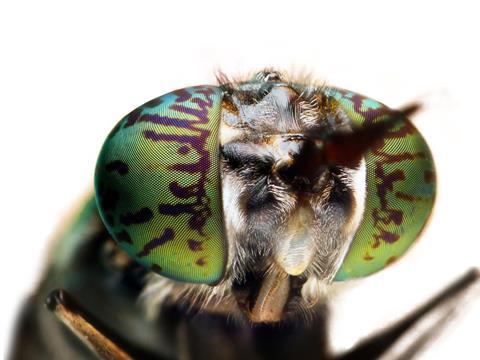 Yes, that is a fly. Because food waste is a battle fought on many fronts. From game-changing apps to transforming datemarks, tech whizzkids have developed a raft of new innovations that are changing the food waste landscape.
It's true that efforts to educate consumers, rework distortive government policies and keep up pressure on industry are all vital in tackling the 10 million tonnes of food Wrap say is binned each year, but the best and brightest minds in tech have a vital role to play too.
"Wrap's research suggests much of the £17bn of food waste that arises every year in the UK could be prevented through changes in business and consumer behaviours, but technological solutions will be essential to supporting such behaviour change, and in some cases negating the need for it," says the charity's special advisor for food and drink Andrew Parry.
Of the 10 top consumer reasons for chucking out food, 70% could be improved with technology, including confusion over date labels and overstuffed trolleys.
The same goes for industry. Wrap claims 58% of the 1.9 million tonnes of surplus food they create is avoidable, and the chance for technology to intervene is huge.
As long as it isn't so advanced as to befuddle users, warns Parry. "Making consumers aware of the benefits of getting the most out of technology is critical," he explains. "Changes to labelling will only have an impact if people understand what the terms mean.
"There is huge potential for technology but communications to raise awareness must progress in parallel."
So with that in mind we've provided a simple rundown of eight of the most exciting innovations solving food waste out there at the moment…
Food Cloud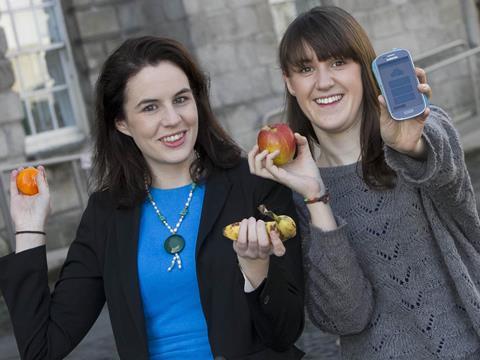 The back of store solution
Who's behind it? Co-founders Iseult Ward and Aoibheann O'Brien met and bonded over food waste at Trinity University in Ireland and in 2013 they launched Food Cloud
How does it work? Using the Food Cloud app, businesses can upload details of their surplus food and the time period in which the food can be collected. A text is sent automatically to registered charities and the first to accept the offer collects it directly
What is its track record? In 2015 a trial with Tesco and FareShare rolled out to all the supermarket's 803 UK stores. This month the scheme signed up its 3,000th charity with 1.5 million meals of surplus delivered to date via the partnership. In Ireland Aldi now uses the original app in 79 of its stores too donating 234 tonnes via the platform in only six months. Overall the app has facilitated the redistribution of 2,321 tonnes of food (or 5.1 million meals). Three newly launched Food Cloud hubs provide extensive storage space for surplus from even more food and drink firms.
The Olio App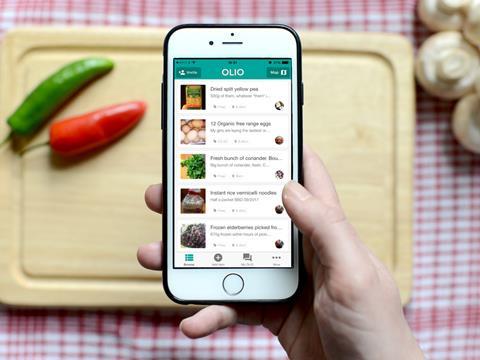 The food sharing app
Who is behind it? Co-founder Tessa Cook convinced university pal Saasha Celestial-One to help her set up the Olio app in 2015 after failing miserably to find a home for leftover food
How does it work? A free app, Olio connects neighbours with each other, and local businesses with their local community, to flag up surplus food available for sharing. To make an item available users add a photo, description, price (if applicable) and when and where the item is available for pick-up. Users looking for surplus can send a private message to organise the details
What is its track record? Since launch the app has been downloaded 110,000 times with 140,000 items of food shared and up to 90% of requested products picked up. Ten thousand-plus of these items have been shared in Sainsbury's food waste test town Swadlincote. And as of October the app has been made available globally after "food waste warriors" in China, India and Africa contacted the founders.
APRIL – the robotic chef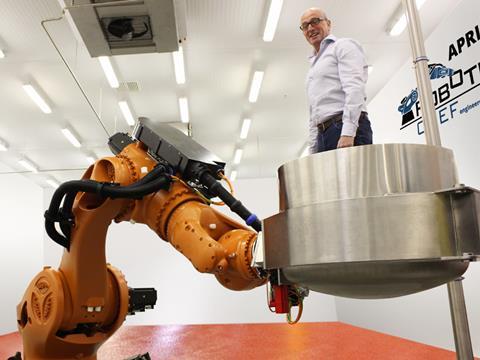 April food processing platform
Who is behind it? OAL, a UK engineering company has developed the robotic chef alongside experts at the University of Lincoln
How does it work? Emulating a professional chef on an industrial scale, the robotic APRIL can move pans, handle ingredients and create "unprecedented flexibility" during food manufacturing with a system "easy to scale as demand increases" according to its developers. This boosts efficiency and, crucially, far greater precision within food production, helping to eliminate many of the causes of waste on the factory floor such as spills, trimmings and ingredient errors
What is its track record? The first fully working model is due to be operational at an "early adopter" on mainland Europe within the next few months, with "ongoing talks" at UK manufacturers to follow.
Winnow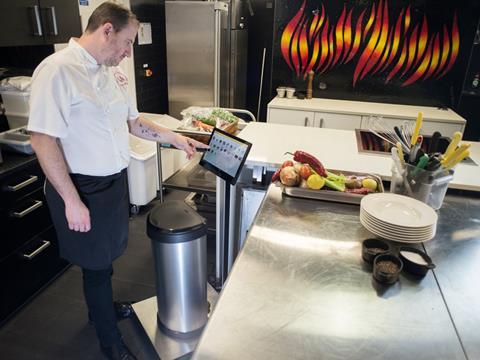 The kitchen spy
Who is behind it? Working as a consultant at McKinsey in 2011, Marc Zornes co-authored a sustainability report that flagged up the scale of the problem of food waste. Joining forces with an old university pal he invented Winnow, a tech solution targeted at foodservice
How does it work? By installing touchscreens next to kitchen bins, the Winnow software tracks each and every morsel that's chucked away. Staff tap the screen to record the type of waste, and the weight and cost are automatically added, providing chefs or foodservice operators with a full picture of all the food they've wasted. "This gives chefs the information necessary to drive improvements in their production processes to cut food waste in half, saving money and reducing their environmental footprint at the same time," says Winnow
What is its track record? In only a few years, Winnow has attracted some heavyweight fans, with waste campaigner and chef Hugh Fearnley-Whittingstall crediting the tech with reducing waste in his River Cottage kitchen by one third, enabling him "to identify dishes that were oversized as they come back under-eaten, or ingredients that are producing a lot of trim, byproduct or leaves." Major UK foodservice operators including Compass Group and Accor Hotels agree and have already adopted the tech to cut their food waste in half, with companies in 18 countries following suit resulting in Winnow having a "significant presence" in Europe, Asia and the Middle East.
The Bump Mark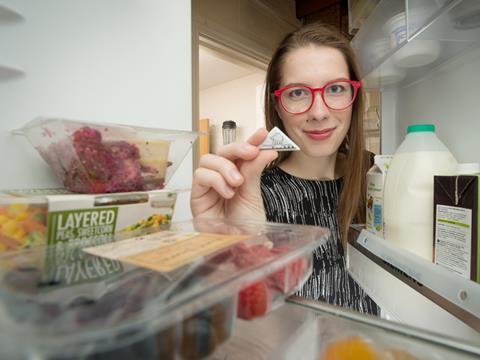 The bio best before date
Who is behind it? Solveiga Pakstaite (who appeared on The Grocer's Top New Talent list in 2014) dreamt up the Bump Mark to help visually impaired consumers read date labels but the solution is now regarded as a "cost-effective food waste reducing technology"
How does it work? The label uses gelatine to track the decay process of food. Customers can quickly learn the condition of their fresh food with a quick sweep of the mark, with a smooth surface indicating the gelatine (and food) is still intact and a bumpy texture warning them that time is nearly up as the gelatine deteriorates at the same rate as protein based foods
What is its track record? Since scooping the James Dyson Scholarship for her design in 2014 Solveiga has secured a raft of further grants to help her commercialise the product.
Bosch Smart Connect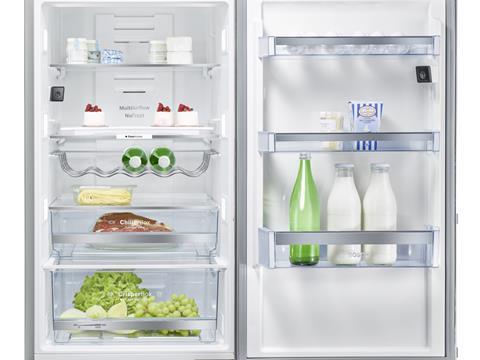 A very cool smart fridge
Who is behind it? As early as 1998 the idea of interconnected fridges was floated with a Japanese inventor unveiling a smart fridge complete with touchpad and microphone at an expo in Tokyo. But it wasn't until 2015 that Bosch revealed its 'selfie' equipped Smart Connect model
How does it work? Two cameras fitted to the interior enable users to remotely observe exactly what food they have left for tonight's dinner via the Home Connect app. With 40% of people going blank on what food they have left once they reach the supermarket, according to research from Sainsbury's, the tech will stop unnecessary purchases
What is its track record? At a little under £900 the Bosch Smart Connect isn't cheap but neither is it miles outside an average family budget and to help ramp up publicity the tech company has teamed up with Sainsbury's to distribute the fridges to 20 families in Swadlincote.
The Japan Weather Association (JWA)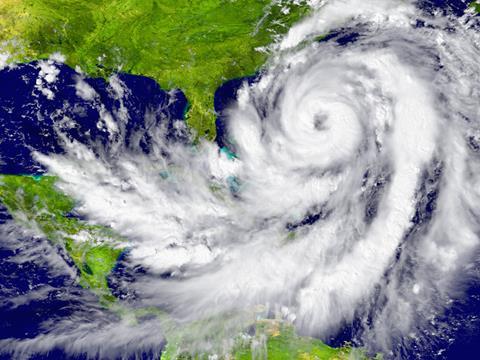 AI meteorology predicts what we will buy
Who is behind it? The Japan Weather Association (JWA), the country's first privately run meteorology company, has begun investigating how artificial intelligence can fight food waste as one of 21 global projects it's currently running
How does it work? With the food sector susceptible to weather-related risks and the ensuing waste, the JWA says it is using AI to develop a new system for more accurately predicting future food demand. By incorporating weather information, sales data and other contributing factors into one (hugely) complex algorithm, the organisation believes it can pinpoint demand and help companies to reduce the amount of wasted food caused by inaccurate forecasts. The system is even able to scan social media to analyse shopping habits, says the JWA, leaving it able to make predictions on – for example – what women in their 30s are most likely to buy on rainy days.
What is its track record? Thirty food and drink firms are already on board with the project and are assisting with the early stage research, including suppliers Mizkan, Nestlé and tofu brand Sagamiya Foods. Following tests last year, the JWA reckons it could cut food waste at some companies by up to 40%.
Entomics - The Insect Fertiliser
Using flies to turn food waste into fish food
Who is behind it? Four University of Cambridge graduates (L-R Joe Halstead, Miha Pipan, Matt McLaren and Fotis Fotiadis) with backgrounds in biochemistry, biology, engineering and business banded together to "close the food waste loop"
How does it work? Using an insect called the Black Soldier Fly the innovative team have found a way to turn wasted food into useful products. The fly larvae are fed organic waste and convert 95% into complex fats and proteins as it passes through their bodies, "building waste up" into more valuable and complex compounds rather than breaking it down into simpler components as many current solutions do. This way the flies create both animal feed and fertiliser in "a cheap, scalable and sustainable manner" with multiple applications. Currently farmed salmon are fed on wild caught small fish for instance. But using these flies the company says it can turn food waste into aquaculture feed rich enough in protein and 0mega-3 to satisfy farmers and remove the need for this extra fishing
What is its track record? Still at "an early stage", the startup has nevertheless secured a contract with Sainsbury's to pick up waste from its Cambridgeshire stores, which it uses to provide material for an in-house demonstration system based at the county's National Institute of Agricultural Botany. It's also won a raft of tech awards thanks to the demonstration and secured a £60,000 grant from an agri-tech fund to take the research to the next level.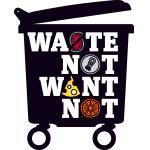 How are you using technology to tackle food waste? Get in touch and help us raise awareness of what the industry is up to
If your business is using the latest tech to tackle food waste we want to know about it. As part of The Grocer's major Waste Not Want Not campaign, launched six months ago, we're providing a platform for industry pioneers working to reduce the 1.9 million tonnes of surplus Wrap say is wasted every year by food and drink companies. Whether it be gadgets that help cut waste on the factory floor, equipment that cuts the cost of sorting out surplus, or software that gives consumers the tools to redistribute food from their homes.
Wherever, whatever and whoever you are, we want to hear about your work to fight food waste.
To get in touch and to join the industry heavyweights alreeady backing our campaign email wastenotwantnot@thegrocer.co.uk or visit thegrocer.co.uk/wastenotwantnot to find out the latest developments across industry.