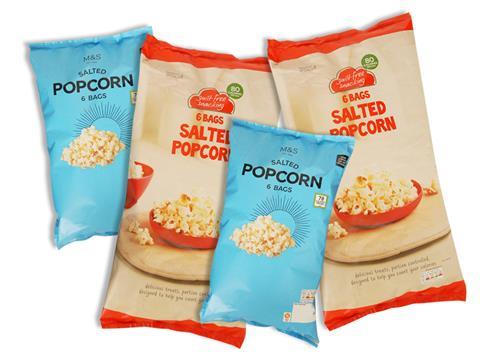 M&S has slashed 75 tonnes from its packaging since the beginning of its 'Project Thin Air' last year.

The retailer has reduced packaging on more than 140 of its lines, which has resulted in 152 fewer delivery lorries being on the road in 2017, it reported today.

M&S said its most drastic change was in its popcorn range, which has undergone a 37% reduction in pack size with no change to the product content.

The amount of plastic in its hand-cooked crisp range has also shrunk by 20% due to using a thinner film.

M&S packaging expert Laura Fernandez said the retailer had "led the way in packaging reduction". "We very much see this as the start of a much bigger piece of work and hope to bring equally impressive savings to other areas of the business too," she said.

Reducing unnecessary waste is a key part of the M&S Plan A initiative. Earlier this year, M&S announced it was widening its trial of laser 'tattooing' technology on fresh produce in a bid to reduce the waste created by paper-based labels.