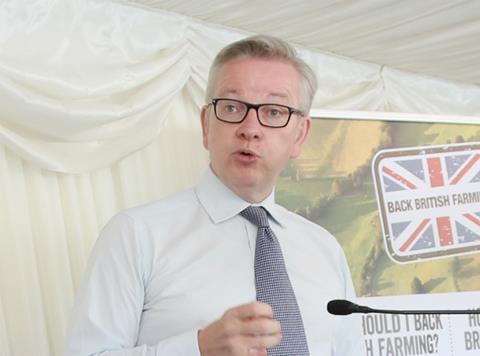 Environment secretary Michael Gove has signalled the UK government is set to follow Scotland's lead by bringing in a Deposit Return Scheme (DRS) for bottle recycling.
Defra today launched a consultation inviting views on how reward and return schemes for drinks containers could work in England, just weeks after ministers north of the border shocked the industry by unveiling their own plans.
The call for evidence came as Defra emphasised the eight million tonnes of plastic discarded into the world's oceans each year, which it said was "putting marine wildlife under serious threat".
The consultation includes plastic, metal and glass drinks containers, will last four weeks, and be overseen by the Voluntary and Economic Incentives Working Group, set up as part of the Litter Strategy, which will report back in the new year.
"We must protect our oceans and marine life from plastic waste if we are to be the first generation to leave our environment in a better state than we found it.
"That means tackling the rise in plastic bottles entering our waters by making it simpler and easier to recycle and dispose of them appropriately," said Gove.
"Today we are launching a call for evidence to help us understand how reward and return schemes for plastic bottles and other drinks containers could work in England.
"This approach has already seen great success in other countries such as Denmark in curbing plastic pollution, and we want to hear people's ideas on how we could make it work in England.
"This adds to the progress we have already made in cleaning up our oceans by significantly reducing plastic bag use and drawing up one of the world's toughest bans on plastic microbeads."
The evidence submitted will be examined by the government's working group, which includes brand and retail giants such as Coca-Cola and Tesco.
Coca-Cola's u-turn, which saw it come out in support of DRS schemes in February, has been seen as a major turning point in the fortunes of DRS, despite strong opposition elsewhere, especially from retailers.
After months of negative publicity about Coke's opposition to DRS, from the Daily Mail, the Murdoch media empire and NGOs including Greenpeace, Coke told The Grocer it was willing to support a trial of such a scheme in the UK providing it was not in isolation.
Last month Coke "applauded" the leadership of the SNP for its pledge to bring about a "step change" on waste through DRS, with Nicola Sturgeon committing the SNP government to launching a scheme even before a consultation process, being led by Zero Waste Scotland, is carried out.
Supporters and opponents of DRS alike have warned there could be chaos on the border if Scotland presses ahead with such a scheme and it is not brought in south of the border.
Defra said the plans for DRS south of the border would follow the successful waste initiatives already launched by the government, including the 5p plastic bag charge, which has seen "enormous success" in changing consumer behaviour by reducing use 83%.
It said more than 80% of the waste ending up in the ocean was estimated to have been originally lost or discarded on land before washing out to sea. Plastic bottles are a particular concern, with figures showing just 57% of those sold in the UK in 2016 were collected for recycling.
That compared with a record 90% of deposit-marked cans and bottles that were returned to dedicated recycling facilities in Denmark, and a return rate of almost 80% of beverage containers in South Australia, both of which have a form of deposit return scheme.
The Welsh government, which was the first to introduce the 5p charge on plastic bags, has also signalled it is considering a DRS both for bottles and cans as well as a possible 'plastic tax' on producers, with possible regulation coming in as early as next year.
The call for evidence can be found at consult.defra.gov.uk/.