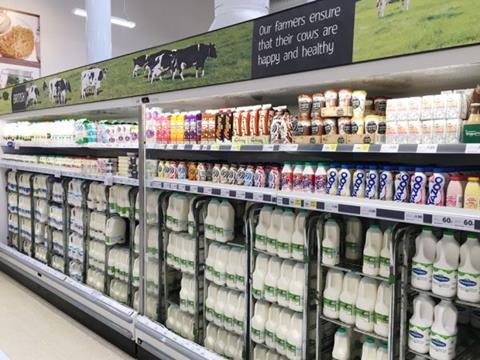 Milk bottles are set to get temperature-sensitive strips alerting consumers when their milk is at risk of spoiling early, as part of a trial planned by food waste charity Wrap.
The scheme, which will see the charity collaborate with "major name" retailers, is set to begin early next year, Wrap told The Telegraph. It declined to name those involved, citing the "early stage" of the plans.
The trials will see thermochromic ink strips attached to bottles that change colour or display messages when above or below a certain temperature threshold, warning consumers their fridge and/or milk is too warm.
It has also launched a new website through Wrap's consumer-facing platform Love Food Hate Waste, called Chill the Fridge Out, which aims to educate consumers on how to change the temperature settings on their fridge.
"Innovations like ­thermochromic inks could alert people to the fact their fridge is running too warm," saidthe charity's special advisor - food & drink, Andrew Parry. Initiatives such the Chill the Fridge Out campaign made it "easy to change the temperature setting", he added.
It came as Wrap unveiled its action plan to tackle milk waste across the supply chain after finding 7% of the UK's milk production went to waste each year, equal to 330,000 tonnes.
Some 290,000 tonnes of that waste – or 490 million pints - was milk thrown away in the home, it said, more than a sixth of which could be saved by better educating consumers about the temperature of their fridges.
Fridges in the typical UK household were operating at 2°C warmer than the recommended Food Standards Agency guideline of between 0°C-5°C, meaning milk was at more risk of spoiling prematurely, said Wrap.
"As most of us take milk out of the fridge several times a day it's the ideal 'hero product' to provide compelling visual messages to people, but getting our fridges operating at the optimum temperature will also benefit many other types of food and drink. Industry is exploring the potential for on-shelf trials of thermochromic inks with milk," added Parry.
The charity also highlighted the 10,000 tonnes of tonnes of waste created at processing level by separating cream from milk. Wrap suggested the byproduct had enough nutritional value to reuse as food or animal feed as a source of protein.