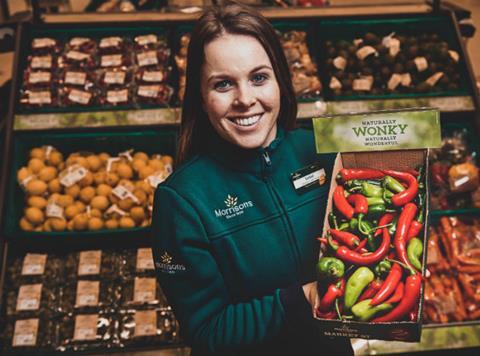 Morrisons was described as a "pioneer" by Wrap today for its decision to come clean over its food waste figures.
That may seem a rather strange choice of words given that it was back in 2013 that Tesco became the first retailer to start publically announcing how much food was going to waste from its stores.
But Morrisons' move could, nevertheless, be an important landmark as it is evidence that the tipping point of food waste transparency among supermarkets has at last been reached.
It is now only a matter of time, surely, before all supermarkets are doing the same and, as Wrap suggests, inspiring other businesses across the food and drink sector more widely to stop hiding behind walls of secrecy when it comes to food waste.
The development comes just days after Tesco revealed it had failed to hit a two year target to end all food waste from its stores and DCs - its food waste actually went up last year despite its category leading efforts- and it is no given that Morrisons will see the 11,000 tonnes of waste it has announced today go into a steady downward direction, especially with the business in growth.
But initiatives such as its Wonky fruit and veg range, now extending to an impressive 50 different products across the year, show how far it has come. It was only three years ago don't forget that the formative scheme was branded "pathetic" by the chef Hugh Fearnley-Whittingstall with Morrisons being quite widely seen as one of those companies burying its head in the sands.
However, as with last week's announcement by Tesco, today's move still begs the question as to when the industry will truly co-operate on food waste measurement at an optimum level.
As the Grocer revealed last year the IGD has already agreed in principle on the concept of publishing figures but has failed to come up with a vehicle for that to be done, leaving retailers to go their own way.
One alternative would appear to be Wrap's flagship Courtauld 2025 agreement, which has recently struggled both to get supplier sign up and retailer consensus on the best way forward to tackle waste, as well as suffered from government cutbacks to funding.
It would hugely strengthen Courtauld for it to include an annual, retailer level, reporting figure on waste with perhaps a similar figure for supplier to follow further down the line.
Such a move comes with a great deal of politics involved , with all retailers, just as with the plastic crisis, keen to manage the message on food waste.
There are also possible tension between Courtauld and Tesco's support for the Champions 12.3 group, led by its boss Dave Lewis.
The UK's biggest retailer suggested a few months ago that Courtauld's targets did not go far enough.
So clearly there is still much to be done to get the industry fully working together on food waste, with politics likely to play more of a part before this issue can be settled.
But today's move by Morrisons is another, potentially big, step in the right direction.