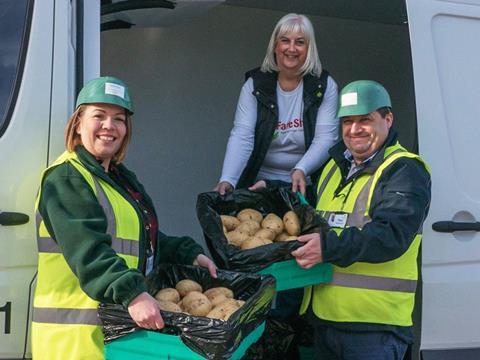 Morrisons has hit the milestone of providing 100,000 meals to FareShare less than a year after the two joined forces.

FareShare first received products from Morrisons in April 2017 when its Grimsby fish plant began donating fresh fish and seafood. Since then it has received expanded support from Morrisons' fruit & veg packing centres and its Gadbrook hub.

The charity has received 40 tonnes of green grape offcuts from Morrisons since its Bradford fruit centre began working with FareShare, directly benefiting more than 1,400 charities. The project has now been expanded to include red grapes. The retailer has also supplied potatoes from its Carnoustie depot since December last year, when the team decided to send quality samples for redistribution instead of using them for animal feed.
"As a foodmaker that makes most of the fresh food we sell, our sites represent the best opportunity to make a real difference by working with FareShare," said head of corporate services at Morrisons Steven Butts. "We want more and more people to be able to eat well and that means ensuring as little as possible is wasted. Working with FareShare means we get surplus food made into wholesome meals where they are needed."

Morrisons is now set to work with FareShare to embed the redistribution model further into its manufacturing network and supply chain.

"Thanks to collaboration across multiple production sites, FareShare is able to access a range of fresh, nutritious food that is in such high demand by the thousands of frontline charities we support - items like fresh fish, potatoes and fruit," FareShare CEO Lindsay Boswell added.