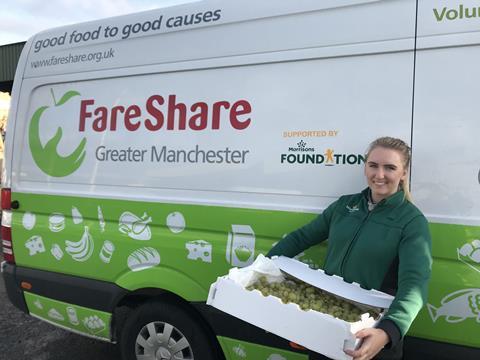 Morrisons has launched a new project to redistribute leftover grapes via FareShare's charity network as part of its effort to cut food waste.

The retailer kicked off the collaboration last week, which will see it donate offcuts from larger grape bunches to charities including kids' breakfast clubs, community centres in deprived areas and lunch clubs for older people at risk of loneliness.

Announcing the project, FareShare CEO Lindsay Boswell said the idea came on a factory walkthrough at Morrisons' Cutler Heights fruit packing facility in Bradford.

"We spotted the grapes and decided to do something practical with the surplus," he said. "Our charities are in serious need of fresh fruit & veg.

"Turning a product destined to go to waste into something commercially viable or that benefits those in need is a win-win solution. It stands testament to the innovative ways we can reduce waste at every stage of production."

This latest collaboration follows the success of a partnership between FareShare and Morrisons at its Grimsby plant, which has seen two tonnes of fresh fish and seafood redistributed since the two joined forces in April.

"Working with FareShare in our manufacturing sites is a great addition to our wider surplus redistribution programme," said Steven Butts, head of corporate responsibility at Morrisons.

"It broadens our commitment to reduce food waste across our operations. We have now donated over three million unsold products to community groups from our stores."

Are you #SeriousAboutSurplus? Sign our petition to get more edible surplus food to charity.
Sign our petition

We want food to be eaten - not end up in the bin. Join our campaign and help lobby government to take action on food waste.