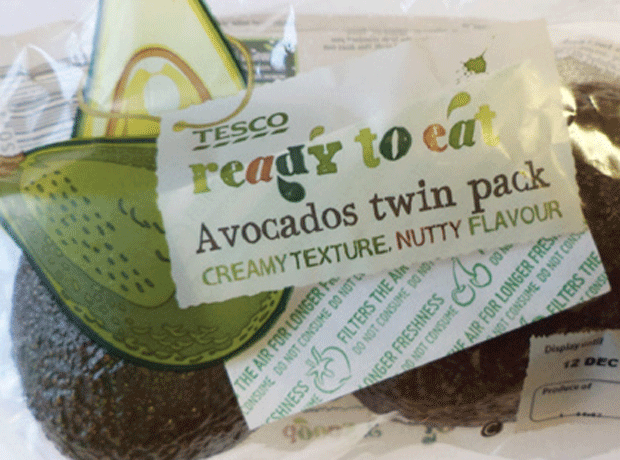 Tesco and Waitrose have launched a new packaging format to extend the shelf life of avocados and cut food waste.

The new packaging uses UV light treatment and a plastic film to add up to two extra days of shelf life without compromising on quality or flavour, said Tesco.

Two-packs of ripened avocados (rsp: £1.89) in the updated packaging went on sale in 1,300 Tesco stores last week.
"Avocados have recently soared in popularity as a healthy snacking food but frustratingly, once ripe, they can deteriorate fairly quickly," said Tesco technical manager Mike Corbett.

"This fantastic new packaging will help cut down on food waste by offering customers up to an extra two days of storage time."

There has been no change in the volume of packaging used, said Tesco. However, a spokeswoman confirmed the new format was not recyclable or compostable, despite the retailer's long-term goal to make all its packaging compostable or recyclable by 2025.

The new packaging was developed in conjunction with supplier Greencell and packaging specialists Coveris over several years.

It comes as Tesco's avocado sales grew by more than 10% in 2017, in the wake of other avocado innovations such as Tesco's giant 'Avozilla', which is around five times larger than the average avocado, and snack-sized 'Zilla Eggs'.