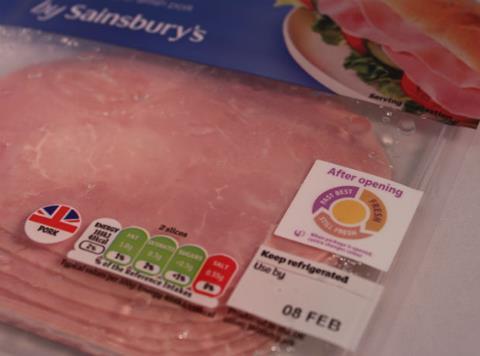 Sainsbury's has launched a "smart" packaging label on its ham to alert customers when it is about to expire.

The 'Smart Fresh' label changes colour from yellow to purple the longer the pack has been open, in a bid to cut back on the estimated 1.9 million slices of ham wasted in the UK every day.

The rate of change will slow down if the fridge is at a cool temperature, as an open pack of ham has its longest life when kept below five degrees.

The label will appear on Sainsbury's own-brand seven-slice cooked ham and forms part of its £10m Waste Less, Save More project to reduce household food waste.

Sainsbury's said many households wasted ham because they didn't know how long it had been in the fridge.

"We've all been there; when we've found a pack of ham loitering on the bottom shelf of the fridge and can't remember how long it's been opened for," said Jane Skelton, head of packaging at Sainsbury's. "With sliced ham in fridges up and down the country, we wanted to find a way to reduce waste of this family favourite while helping customers save money with the new Smart Fresh technology."

Sainsbury's named packaging as part of its 10-point plan for the next phase of its Waste Less, Save More scheme in May, and is also set to increase resealable and snap-pack packaging across 300 product lines, including cheese and nuts.

In May, Sainsbury's reported it had fallen short of its target to halve food waste in its year-long Swadlincote trial but said it was "looking forward to the next stage of our journey".