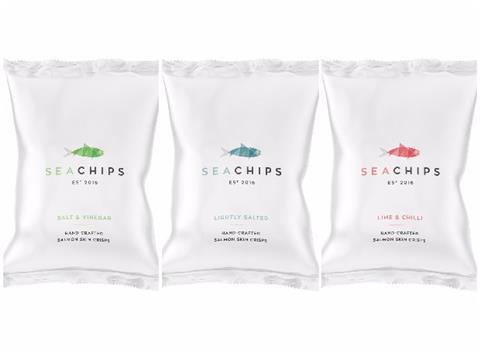 Salmon skin chips made from offcuts that would have otherwise gone to waste have hit the shelves of Harrods Food Hall.

Sea Chips is claiming a UK first with the handmade product, which comes in lime & chilli, salt & vinegar and sea salt flavours (£1.60/25g pack). The crisps are dehydrated then shallow fried for a couple of seconds to "puff up", said Sea Chips co-founder Dan Pawson.

Since the crisps went on sale in October, the brand has secured further listings in Whole Foods Market, where they are set to go on sale later this month.

Sea Chips intends to donate 10% of its profits to an ocean charity chosen by its customers at the end of the year, said Pawson. Customers will be able to vote for the charity on the Sea Chips website or at Whole Foods tasting sessions.

"As a fish snack brand, we rely on the sea and believe it's important we give back what we take. Supporting new innovative charities that are tackling these problems is just something we wanted Sea Chips to represent from the start," he added.

"I believe this is why consumers are so supportive of smaller brands, because we have a social conscience."

The founders were working at Van Zeller restaurant in Harrogate when they came up with the idea, said co-founder Dom Smith. They would serve the crisps as snacks, and eat the leftovers following a kitchen service.

"Salmon skin crisps were extremely popular in Asia as they are high in protein and omega-3, but they were just not available in the UK," said Smith. "Here, fishmongers tend to throw the skin in the bin so we take it off their hands and create a no-waste product."

Scott Winston, a former buyer at Selfridges and Harvey Nichols, has also joined the team. It has set its sights on extending the reach of Sea Chips while developing other products with the same no-waste ethos.
● Are you #seriousaboutsurplus? Then sign our petition to get more edible surplus food to charity. https://petition.parliament.uk/petitions/204156