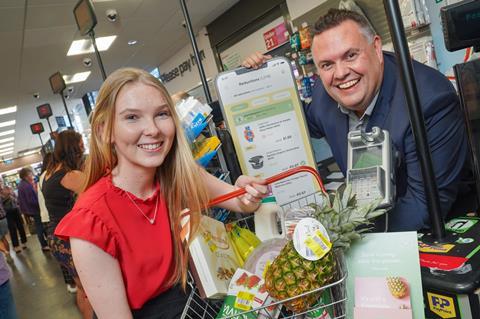 Spar retailers have become the first in the UK to ping live price reductions on short-dated foods to shoppers as part of a technology-led waste-busting drive.

Two hundred and seventy UK stores with Henderson Technology's EdgePoS went live last Friday with the newly-launched Gander app.

Gander displays reduced-to-clear food products on local shoppers' Android and Apple smartphones the moment the price-reduction stickers are applied.

The app updates availability as soon as each product is sold.

Shoppers can choose to follow specific products and stores, so if they want to be alerted when chicken fillets are half price in a shop around the corner, the app can do this.

It will also tell them how many of each discounted product are left.

Darren Nickels, head of Henderson Technology, said up to 4,000 app downloads had been registered in the first few days of Gander going live in app stores.

"It will build and build. The store teams are really engaged with it and the shoppers are getting it."

Nickels stressed it did not want Gander to be exclusive to its Spar, Eurospar, Vivo and Vivoxtra brands - it was about reducing food waste over and above seizing commercial advantage over other retailers.

"I know Gander is in discussions with many others to do this and I know many are watching to see how this goes. We are happy to be leading the way on it but we would like to see this in every outlet across the UK. Waste reduction is a big driver for shoppers," he explained.

"Yes, we have the kudos of doing it first and leading the industry and that's great and we're really happy about that, but if it is to be successful, it has to become a standard way of shopping across all outlets because that's how shoppers will come back to it again."

Andy Osborne, founder of Gander, said at a time when margins were being squeezed, this was revenue sitting on retailers' shelves and that shoppers locally would love to buy - they just did not know it was there.

"For a retailer, this will increase revenue otherwise lost to waste, increase footfall and reduce waste. For the shoppers, it will provide them with the ability to avail local bargains and save money, while allowing them to feel they are positively addressing the problem of food wastage," he explained.