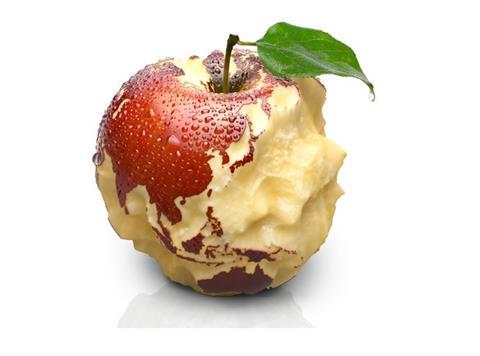 The world binned or burned the equivalent of £2.9 trillion of food last year. A fetid pile of 1.3 billion tonnes - a third of all the food the world produced - went 'off' in fields, factories and family homes, says the FAO, belching out more noxious carbon than any country in the world, with the exception of China and the US.

Stuffed into this squalid mountain of discarded food lie 45% of the world's fruit and veg, more than a third of its fresh fish and seafood, 30% of its grains and cereals and a fifth of its nutrient-rich dairy and meat - enough food to feed all Africa's hungry.

"Food production is the single-biggest impact humans have on nature. It currently leaves one billion people underfed and two billion overfed, and we waste one third of it," sums up Feedback founder Tristram Stuart. "It's totally and utterly ridiculous."

Gluttonous superpowers stocking their supermarkets with enough to feed their population twice over are the biggest culprits, claims the UN. It points the finger firmly at the US and Europe where the equivalent of 280kg of food per person, per year, is wasted.

Surprisingly, though, the developing economies of Africa and Asia aren't faring much better.

About 160kg of food per capita is wasted each year in sub-Saharan Africa, while 233 million of its people struggle to eat at the same time. That falls only slightly in South East Asia to 125kg.

A closer look reveals the factors behind this waste vary dramatically. Here in the West, our weekly shopping habits, obsession with perfect produce and scrupulous quality controls mean a third of waste happens in the final stages of the supply chain. Whereas in the developing world, as little as 5% of food is wasted by consumers and only 20% during processing, with the overwhelming majority lost in the very early stages of production.

"One of the major reasons is storage and the ability to protect the product from the farm through the supply chain to the customer [versus] a lack of storage facilities, poor distribution networks, and poor transportation," says Liz Goodwin, former Wrap CEO and now director of food loss and waste at WRI. "They'll also get, say, a glut of mangoes and they don't have a market for them, so they just leave those rotting in the ground."

More controversial, though, is the allegation that Western retailers, operating thousands of miles away, are equally - if not more - to blame.

Sharing a stage with Sainsbury's CEO Mike Coupe in October 2016, Stuart insisted supermarkets here "use the power they have to dump waste on suppliers" in far-off countries by cancelling orders at the last minute. And then wash their hands of responsibility.

"Supermarkets encourage suppliers to produce food with forecasts that don't then materialise into concrete orders. The entire cost of which is borne by the suppliers," he claimed.

Coupe visibly bristled, brushing off the allegation as "myth". And, at the Efra select committee hearing last month, Tesco's group quality director Tim Smith said the claims left him "incensed".

"That piece of evidence jumped out at me and I don't recognise it," he told MPs. "It assumes there is an adversarial relationship between the buyer and the farmer or grower and that is almost never true. We have to be able to trust each other, part of that is the forecasting, and it serves nobody to get your forecasting wrong."

Victoria Harris, head of sustainability and responsible sourcing at Waitrose, backed Smith up. "We work with suppliers on promotional plans throughout the year to make sure we align on seasonal fluctuations in produce," she said. And Louise Evans, Sainsbury's director of corporate affairs, insists the mult does "everything it can to improve our forecasting to make sure we're buying what we say we're buying".

Smith goes further. "We can't speak for other retailers, but at Tesco we don't cancel orders at the last minute and where possible we always aim to be flexible with our producers to minimise waste."

Somebody must be lying then, chided MPs. "We have had witnesses in front of telling us very different," scolded Tory Chris Davies. "Either somebody isn't telling the truth or someone has misunderstood the truth."
Rejections and cancellations
Not necessarily, says Feedback campaign and research manager Edd Colbert. "There is a degree of cognitive dissonance at play within the departments of retailers, where the behaviour of procurement teams, incentivised by a bonus culture, may be at odds with CSR and PR departments." For him "the supermarkets' claim to not cancel orders on primary producers simply testifies to the fact that many of them do not work directly with such suppliers, instead operating via intermediaries such as importers or manufacturers".

The fact is when Feedback ventured out to meet African producers in 2015 it was met with a different picture from the one painted by indignant retailers.

All Kenyan farmers interviewed told the organisation they believed rejected and cancelled orders were the result of decisions taken by European importers and retailers, with 30% of food rejected at farm level and nearly 50% turned away before it could be exported.

Moreover, "using cosmetic specifications as a front for rejecting perfectly edible food is one way in which a purchaser or distribution centre manager can in effect cancel an order without having to issue an official cancellation," adds Colbert. Cancellations may come mere hours before food is set to be exported, when it's sitting graded and packed, and farmers with no other routes to market have little choice but to dump the product.

Worryingly, safeguards to protect primary producers can be hit and miss. The first port of call should always be the contract terms, says Sian Edmunds, head of food and drink at Burges Salmon, with minimum order provisions from the supermarket likely to stop the waste in its tracks. "But so many of these arrangements still exist on a pretty undocumented basis," she admits.

Even where the T&Cs are laid out in black and white it's unlikely they'll include a duty on the supermarket to buy a particular volume of goods, she adds, with retailers opting for more flexible terms and producers left with liability.
Protection
Which is where the Groceries Supply Code of Practice (GSCOP) should step in. "While we certainly see a strong commercial and financial reason to not cancel orders, there is also a regulatory backstop in the UK provided by the Groceries Code Adjudicator," says Tesco's Smith. "The GCA mandates that retailers must take all due care to ensure that, when ordering groceries from a supplier at a promotional wholesale price, they do not over-order."

Edmunds doesn't share his confidence. "While GSCOP does offer layers of protection, it's more about giving reasonable notice for changes and making sure forecasting is accurate, but it doesn't require there to be a specific purchase and it doesn't set pricing."

Far more crucially, believes Stuart, the code only protects direct suppliers, with protection severed by the insertion of a single intermediary, a model he claims supermarkets engineer to protect their interests.
What is GSCOP and why does it matter?
Designed to keep the relationship between retailers and suppliers fair, the first Groceries Supply Code of Practice (GSCOP) was introduced in 2001 after an investigation by the Competition Commission. It extends to all direct suppliers working with supermarkets. In 2009 its rules were strengthened after a second investigation revealed the mults continued to expose suppliers to unfair risks.
Under these new terms, retailers were forbidden from demanding payments for listings, were required to pay compensation for inaccurate forecasting, and had to take "all due care" when placing orders with their suppliers.
From 2012, these protections were further tightened - and enforced by the Groceries Code Adjudicator, a position filled by Christine Tacon (right) since 2013. She now has the power to fine supermarkets for major breaches of GSCOP, with a review ongoing to extend her remit further.
The only solution, he insists, is to amend GSCOP and extend its protection to all suppliers. He and colleague Colbert are confident there is "strong political will" for this to happen. "According to the Groceries Code Adjudicator, the majority of suppliers, indirect and direct, are still operating in a climate of fear and are unable to seek help via the GCA," says Colbert. "There is evidently an urgent need for GSCOP to be amended in order to ensure that the GCA is able to do what it was originally built to do - prevent unfair trading practices from happening in the groceries sector."

Richard Walters, consultant at LCP Consulting, agrees this could "tighten the operating principles, elevating the issue to a new level".

Retailers have outright rejected the idea, however. Each of the four mults at the Efra select committee sat quietly shaking their heads when asked if they would back the move. That isn't surprising, suggests Goodwin. Amending GSCOP "would make it very complicated and I'm sure that's one of the reasons the retailers wouldn't particularly like it".

She advocates a solution based on partnerships and communication rather than regulation. "People often have no idea how their decision has an impact down the supply chain on somebody else. When it's explained to them they say 'well, I could do it this way instead'. Getting people to talk to each other is probably a better place to start than saying 'we should insist on this in contracts'."

Already aware of the public backlash around murky global supply chains, many UK retailers are "absolutely" stepping up their efforts to partner more with primary producers and secure direct relationships anyway, adds Edmunds. For her "there's a growing movement towards more integrity in the supply chain".

Tesco says its Supplier Network brings together teams, suppliers and producers from around the world to work in partnership on surplus and highlight waste hotspots, with Agricultural Hubs also set up in Europe, South America and Africa. Through this scheme, the supermarket says it has already widened its spec on fine beans, preventing 15% of the crop from going to waste.
"People often have no idea how their decision has an impact down the supply chain on somebody else"
Meanwhile, the Waitrose Farm Assessment tool looks at waste in fresh produce across all international supplier farms. "By 2013 we'd seen improvement in our growers with their waste management plan and in our next iteration we're hoping to understand in a bit more detail some of the drivers around that," says Harris.

Suppliers too, often acting as the intermediaries between retailers and producers, are doing their bit. "Liability from a responsible supplier is always mutual, we make it a key responsibility of our commercial teams," says Barry Chung, executive director at Minor Weir & Willis, which sources 100 products from 40 countries. "There are several tools available to use from looking at historical data such as weather, promotional activity and consumer data to establishing a credible performance plan."

Nevertheless, for food waste campaigners there is far more work to be done to prevent Western countries in effect outsourcing food waste to ill-equipped countries.

Though retailers may accept it isn't in their benefit to have edible, saleable food dumped at one of their suppliers "it's easy to forget that adjusting requirements in England has a knock-on effect further down the chain," says Edmunds. And that needs to change if we have a hope in hell of hitting our global target to halve waste by 2030.