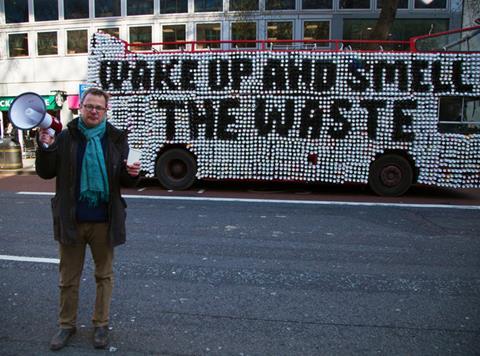 As crusading chef Hugh Fearnley-Whittingstall turns his spotlight on the mountain of waste created every day in the UK from disposable coffee cups, Waitrose has started searching for a new fully recyclable cup.

With its offer of free tea and coffee for MyWaitrose cardholders, the retailer has become a major player in hot drinks 'to go'. It said this week the issue of providing a more sustainable solution to the waste problem was something it was taking very seriously. A spokeswoman added Waitrose was looking for a cup that would be recyclable with all other mixed recycling across Waitrose stores.

"We know how important it is to make significant progress on this industry-wide issue, alongside other supermarkets," she said.

So far, however, it was proving difficult to find a provider that could supply it with the quantities needed for its entire operation.

Seventy-five per cent of hot drinks it served were dispensed in paper cups, Waitrose said. But it also stressed it had positioned reusable travel cups next to the offer for customers to buy (£3 per cup), and said these had recently been on promotion.

The retailer is also one of eight sponsors of the UK's first high street trial of coffee cup recycling, which is launching on Monday. Run by environmental charity Hubbub, it will test consumers' enthusiasm for recycling their coffee cups with a prototype recycling bin in the heart of Manchester city centre. The bin 'rewards' users by playing a tune. Other sponsors include Greggs, Pret A Manger and Nestlé.

In his latest Hugh's War on Waste on BBC1 last week, Fearnley-Whittingstall highlighted the problem of 2.5 billion paper cups being dumped every year in the UK. He explained part of the problem was there were only a handful of specialist facilities in the UK in which the cups can be recycled. His main focus was on challenging coffee outlets Starbucks, Costa and Caffè Nero to recycle their cups, arguing they were misleading customers with claims that cups could be recycled, when in reality most were not.

Peter Goodwin, a director at paper cup recovery and recycling service Simply Cups, said public expectation for cups to be recycled meant more collaboration in the foodservice industry was now needed, with all players working to ensure packaging was actually 'recycled' or 'composted' rather than accepting a claim it could be.

Among other retailers, both M&S and Greggs told The Grocer they were aware of the need for more paper cup recycling and were involved in the joint industry initiatives.