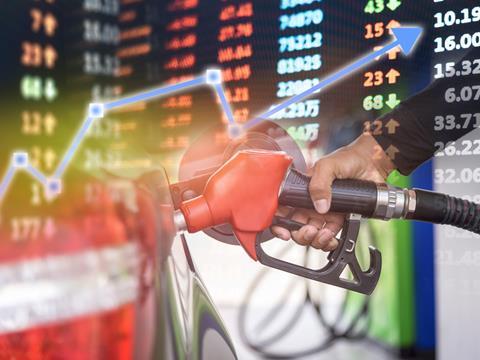 Abandoned and decaying in ever-increasing numbers, five years ago the future looked bleak for independent forecourts. A combination of fuel-efficient cars, sky-high fuel prices and, most significantly, intense pressure from supermarket petrol stations saw forecourt numbers drop to a record low of 8,500.
Today, the situation has changed entirely and independent forecourts are enjoying an incredible renaissance. When The Grocer published its top 50 ranking of independents in March, 20% were independent forecourt operators and they delivered an average sales boost of 30% and 6.4% pre-tax profit growth.

Among the highlights were chains of all shapes and sizes, including Cornwall Garage Group, which delivered a fat 82.6% leap in pre-tax profits to £745k, Park Garage Group, which tripled pre-tax profits to £589k and the Kay Group, which added £2m in sales.

If they are performing well though, Euro Garages is exploding like petrol on a bonfire. Founded in 2001 by brothers Mohsin and Zuber Issa from a single derelict site in Manchester, last year sales soared by £607m. It now owns 360 sites in the UK, 1,100 in Italy, 97 in the Netherlands and it snapped up 800 Kroger c-stores in the US for £2.2bn in April.

So how are they doing it? What makes them so attractive to major oil companies and investors? And is their success set to continue, or are the supermarkets planning a renaissance of their own?
Independents have partly benefited from the fact that the "majority of oil companies, with BP being a notable exception, have exited direct fuel retailing, as it makes economic sense for them to be higher up the supply chain" says Phil Blackford, partner and head of automotive and roadside at fuel and forecourt property specialists Rapleys. "This gap in the market has given the independents almost free rein to expand."

It also helps that independents are more interested in standalone sites than the supermarkets. "For supermarkets, fuel retail was a way to attract customers into their adjacent stores, where they sold higher-margin products," says Ilyas Munshi, group commercial director at Euro Garages. "These mark-ups then allowed operators to be competitive on fuel prices in comparison to the independents. The issue is that with increased overheads and pressure to keep grocery prices low, supermarkets are struggling to maintain these margins."
Fundamental rethink
But the success of independents would not have been possible without a fundamental rethink of the retail offer by the dealers themselves, which has moved on from mags and fags and sweets to a sophisticated convenience offer that can include local farm produce, artisan bread, chilled and frozen food and an extensive selection of wines and craft beer.

"The focus is no longer just on selling fuel. Today's independent forecourt operator has to provide a successful convenience store and food-to-go offer," says Munshi.

The food-to-go side has seen particular development. As well as EG's 'convenience mall-style' approach, Blackford highlights Applegreen's partnerships with the likes of Chopstix Noodle Bar among the trailblazers.

"Smart collaborations with established brands" have enabled forecourt operators to make their stores "destinations for great food options at all times of the day," says ACS chairman James Lowman.
Spar MD Debbie Robinson says teaming up with big brands like Costa Coffee, Subway, Starbucks and Greggs has brought "credibility to the locations and confidence to the consumer. These brands are well known for their excellence in terms of foodservice and they have a halo effect on the overall store proposition. We have seen a real improvement in overall sales, as a result of having a foodservice partner, and have learned an awful lot in terms of how to do foodservice really, really well".
Missions mindset
Far from drivers pulling in to buy petrol, now you see "yummy mummy going for the Insomnia coffee shop, young lads calling in on the way home from school for the Subway, and you have Greggs, which is a mainstream proposition," she adds. "So as well as the number of locations, the number of missions is radically increasing."
"The traditional definition of a petrol forecourt is no longer valid"
It's why a successful indie needs to adopt the mindset that they run a convenience and food-to-go operation that also does fuel on the side, says Munshi. "The traditional definition of a petrol station is no longer valid. Today, independent operators must view their petrol forecourts as convenience stores with a food court that also retails fuel. Customers look for locations where they can grab food to go or do a top-up shop, rather than somewhere where they can simply fill up their fuel tank."
This can also mean installing off licences like the 'Beer Caves' Petrogas has in a number of its Applegreen fascia forecourts, putting in seating, and electric car charging points. "As electric cars become more popular, more will sit there charging for 20 minutes. That makes a good foodservice offer ideal," says Spar UK retail director Ian Taylor.

Obviously it all requires investment. The ACS 2017 Forecourt Report found independents invested £12,445 per store on average, but this has not been hard to find.

"The sector has seen much more interest from private equity groups who are looking to invest in large, independent operators," says Munshi. "Attracting this backing has required independents to consider operational efficiencies, along with a more structured, organisational approach, particularly in terms of above site management. Ultimately, these changes are benefiting business across the board, allowing for larger profits that can be reinvested into expansion."
With investment "predominantly through private equity" Blackford predicts the "growth and expansion we've seen may well result in more smaller groups being swallowed up in due course, and we shouldn't rule out new overseas entrants.

"We have seen some major consolidation in the last couple of years. Of the previous top 50 independent groups we have seen about 10 of those sell out to the bigger groups. We expect there to be more limited consolidation but, with the MFG/MRH deal, the two biggest groups combining to have circa 950 sites, the market is going through some major changes."
Attractive
The major oil groups are also attracted to the "speed with which independent operators can commit to three key goals: investing in the forecourt infrastructure and backcourt offer, broader brand partnerships with convenience store and food-to-go partners, and a commitment to developing their people and systems," says Munshi.

So are retailers like Spar. "We will keep expanding with them," says Robinson. "They have invested in store locations and sites and delivered exceptional standards in terms of operations and cleanliness, everything from the design of the pumps to the toilets. They have invested serious amounts, raised the game and the market has reacted to that. We are in 340 Euro Garages stores and growing, and just over 1,100 forecourt stores in total. Whether it's Euro Garages, Rontec or MRH it's all been very attractive to us."

The evolution of the forecourt is less attractive to the supermarkets. "Some supermarkets have looked at tying up with independents but after a number of trials few have stuck. Sainsbury's tried it with Euro Garages but the experiment was cut short after two years. At the moment, we're not seeing any indication, for instance through site bids, of the supermarkets returning to the fuel market through direct operations themselves."
Could that change? According to the RAC, supermarket forecourts make up 18% of all forecourts, but sell 45% of all fuel. A more likely scenario, given the success of independents and the pressure on pricing from the discounters, is to stop treating fuel as a loss leader. In May, the RAC said supermarkets had nudged up average prices on a daily basis between 26 March and 23 May, from 116.66ppl for petrol and 119.35ppl for diesel to 124.74p and 127.69p respectively.

"This is the worst series of consecutive daily supermarket price rises we have seen since we began monitoring this three-and-a-half years ago," says RAC spokesman Simon Williams.
Narrowing price gap
As a result, though supermarket forecourts remain consistently cheaper than rivals, the AA's Fuel Price Report says the price gap between the supermarkets and other forecourts has fallen below 3ppl for the first time in 12 months.

"Nowadays, there is little difference in fuel prices between supermarkets and the independent forecourt operators," claims Munshi. "Instead, supermarkets are turning their attention to reducing operational overheads, for example by reducing the number of manned petrol forecourts, particularly Asda, which has converted the majority of its petrol stations to self serve."
"Fortune favours the brave. And now they have changed the perception of forecourts in the UK"
The proposed Sainsbury's-Asda merger would give them a combined forecourt estate of around 800 sites, which could result in a rethink. But even if they do make a concerted effort, supermarkets will always be limited by their lack of agility, says Robinson.
"An operator like Spar can tailor the range proposition to a particular location to maximise potential," she says. "That's where we are ahead of the multiples, which tend to put a small selection of a supermarket range into a forecourt. We are constantly improving our offer and with every location we have moved it forward. We are focused on doing that at pace and because we are agile we can. Sometimes it takes bigger businesses longer to catch up."

Ultimately, the indie renaissance has "changed the face of forecourt retailing," says Taylor. "In the past you went to fill up the car with petrol and you might have grabbed something from the shop. Now they are actual destinations. All these independent operators saw an opportunity. Fortune favours the brave. And they have changed the perception of forecourts in the UK."
The top five independents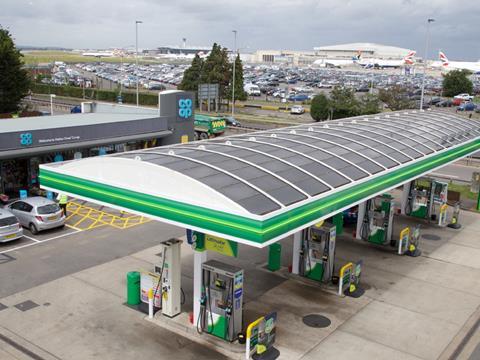 MRH
Store numbers: 491

Sales: £2.3bn

Profits: £73.4m

Food to go: As well as Spar and Budgens, MRH offers Hursts Grab & Go, Costa, Greggs (though it only has six) and 29 Subways. In December it teamed up with Booker to deliver "high-quality chilled and ambient" food.

Future plans: MRH has big plans for the future. After selling up to smaller rival MFG in a £1.2bn deal set to complete in the second quarter of this year, the combined business will have over 900 sites selling BP, Esso, Jet, Murco, Shell and Texaco fuel.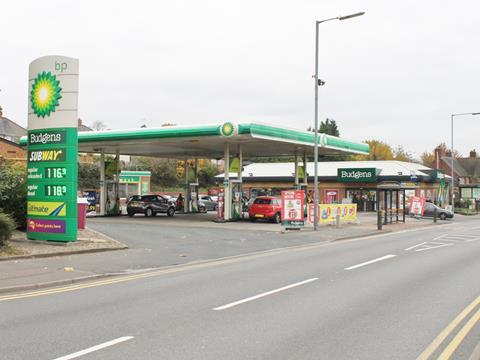 MFG
Store numbers: 439

Sales: £1.5bn

Profits: £103.9m

Food to go: Londis and Budgens offer a typical c-store range of food to go. MFG also offers forecourt favourite Subway, Costa Express and Costa café, saying there is "no point in having great coffee without somewhere great to drink it" and promising a "comfortable seat and a clean table".

Future plans: Currently the second largest indie on the roads, the merger with MRH will make it the biggest. Current chairman Alasdair Locke will continue to chair the combined business.
Euro Garages
Store numbers: 362 (UK)

Sales: £2.3bn

Profits: £57.9m

Food to go: EG operates sites like mini service stations and along with Spar c-stores offers a diverse and wide ranging food-to-go offer across its estate, from forecourt favourites like Subway (500) and Greggs (over 100) to high street outfits like Burger King.

Future plans: Currently splashed all over the tabloids for building multiple mansions in Kensington and their hometown of Blackburn, it's safe to say the brothers Issa will be more focused on building forecourts in the future.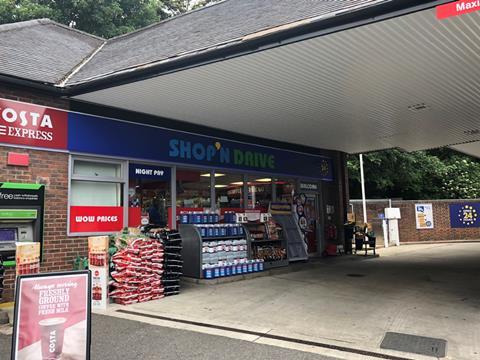 Rontec Roadside
Store numbers: 240

Sales: £1bn

Profits: £22.6m

Food to go: Offering Subway in 40 sites "strategically located", Rontec also offers both Tchibo and Costa coffee and has Costa cafés. It has also teamed up with the West Cornwall Pasty Company, and has Daily Deli counters offering hot food and Stop'n Eat.

Future plans: After rapid growth in 2017, Rontec has settled down and site numbers dropped by one in 2018 to 240. But teaming up with Morrisons appears to be going well, with a 10-store trial since expanded to 40.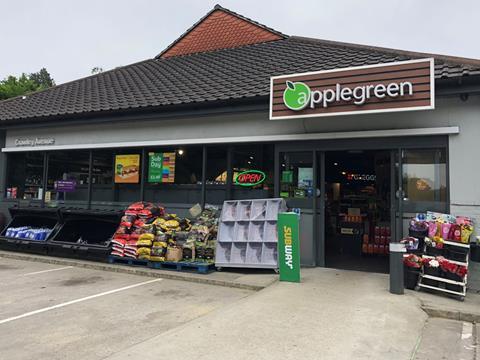 Applegreen
Store numbers: 91 (UK)

Sales: £1.3bn

Profits: £99.6m

Food to go: Burger King, Chopstix, Freshii and usual suspects Subway and Greggs provide a "consistently high quality offer" while seating areas encourage food rather than fuel missions. It also has a credible off licence offer.

Future plans: A combination of acquiring new sites and upgrading existing ones. It says "oil majors continuing to retreat from front line fuel retailing, and moving towards a business model supplying independent operators, offers good growth opportunities".